By Armond White
DeNiro and Stallone's first face-off was at the Oscars 36 years ago when Rocky won the Best Picture Academy Award over Taxi Driver. Turns out that was a defining moment for pop culture: Feel-good entertainment defeated thought-provoking art cinema and the challenge of serious life-reflection represented by the cresting movement of the 70s new American cinema gave way to subsequent decades of studio-financed crowd-pleasers.
Grudge Match, the new entertainment starring Stallone and DeNiro, headlines a rematch of Rocky Balboa's populism against Travis Bickle's modernism. Grudge Match is the most purely entertaining movie released during the Christmas season (American Hustle excepted), yet its strange lack of prestige reveals a change in contemporary film culture where Stallone and DeNiro–one-time pop totems–are now out of media favor. They're celebrity palookas and the fact that they know it and play off it as former light-heavyweight boxers Henry "Razor" Sharp and Billy "The Kid" McDennon, now middle-aged metalworker and bar-owner who glove-up for money and revenge, makes Grudge Match a likable/relatable fable.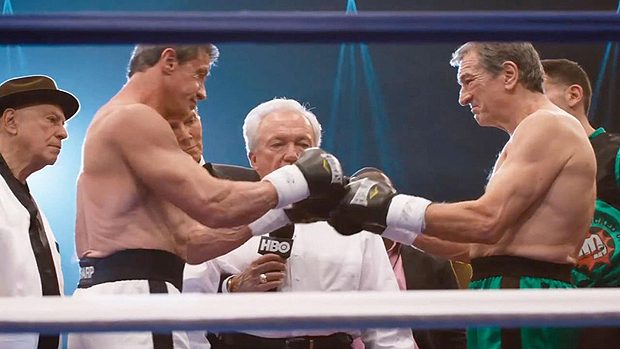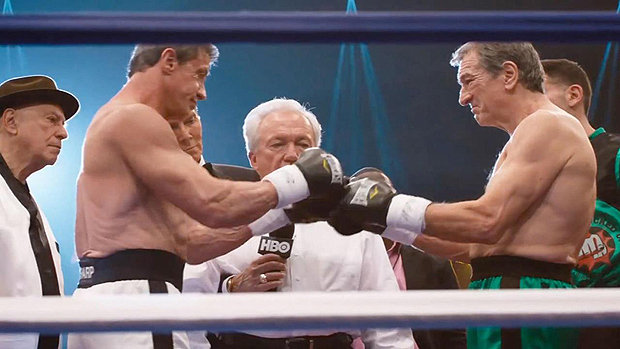 Mythic undercurrents in Grudge Match link with the legacies of Rocky and Taxi Driver. Stallone's Razor externalizes his insecurities, still symbolizing blue collar angst and romance with old flame Sally (Kim Basinger, weathered yet lovely) while DeNiro's Kid still represses rage, an outlaw whose anxieties update existential (Scorsesean) despair. Such sociopathic tragedy was deeper than Rocky's pathos yet in Grudge Match it's warmed by The Kid's comical last chance parenthood (of Jon Bernthal, a perfect sexy, wiry DeNiro type who also appears in The Wolf of Wall Street).
Anyone with movie memories should enjoy the resonance of that great 70s title card–Stallone's Everyman vs. DeNiro's Everyman, a sentimental vs. cynical power struggle that these mellowed stars have come to reconcile. Those great anti-elitist actors became stars by embodying everyone's need to realize themselves. As Walter Hill put it on Bullet to the Head's DVD: "Figure out, in their secret lives, their own aspirations. To sort them out in a simple way." Grudge Match provides a comic method of profound sorting out.
Director Peter Segal (The Klumps) and writers Tim Kelleher and Rodney Rothman balance the right amount of derision and heart (a rock 'em-sock 'em montage of the pugs on old celeb magazine covers is brilliant as a Zelig gag, topped by a donnybrook of the two wearing camel toe Green Screen suits). Kevin Hart's fight promoter role is typically annoying but paired surprisingly well with Alan Arkin as Razor's foul-sarcastic trainer (Burgess Meredith's role without schmaltz).
Recalling Rocky, Taxi Driver as well as Raging Bull (source of hilarious colorized boxing footage) satisfyingly revisits their themes: DeNiro summons LaMotta's inwardness, Sly gets back his shy cavalier romanticism. Both men act out conscience. Exposing masculine ego is the strength of their legendary work. This works better than DeNiro and Pacino in Heat. Stallone's acting has gained gravitas and DeNiro's humor has deepened. For contemporary film culture to ignore this "reunion" further disconnects our cultural heritage. It is also a form of snobbery that proves why today's film culture stinks.
Rocky's post-Oscar cultural domination (a culture-shift often blamed on Jaws and Star Wars) eventuated in the indie movement's pull away from populism in favor of pessimistic arrogance–a sense of superiority over heartfelt, commercial filmmaking styles. The countercultural focus on individual American experience exemplified by Taxi Driver has rejected Old Hollywood's notion of shared, general feeling. Some of the worst films this year (The Place Beyond the Pines, Ain't Them Bodies Saints, Mud, All Is Lost, Oldboy, Identity Thief) resulted from hipster perversion of what audiences once sought from movies.
Though Rocky and Taxi Driver seemed opposites in 1976, their core values (as when The Kid clasps his son's hand and Razor admits vulnerability to Sally) are gone from today's film culture . When Martin Scorsese told TheWrap.com that The Wolf of Wall Street's gross comedy "wasn't made for 14-year-olds" his disingenuous statement exposed Hollywood's current I.Q., an insensitivity that prefers cynicism over the bonhomie, romance and familial values in Grudge Match.
The haste to flee from those values (a TV reviewer began his year's best list by dismissively admitting he didn't bother to see Grudge Match) thereby discrediting their implicit moral responsibility and what they reveal about our most common feelings explains Grudge Match's dismissal by critics–and why reviewers also rushed to declare movie awards and ten-best lists before the year was over and without seeing all of 2013's releases.
Grudge Match's basic feel-good truth reveals that in a disconnected culture, individuals fight against themselves. Razor and The Kid are not simply arthritic rivals, they're aged mirror images of Rocky and Travis Bickle's common humanity: Two pop culture myths converge. From here we can sort the mess that remains of contemporary film culture.
Follow Armond White on Twitter at 3xchair