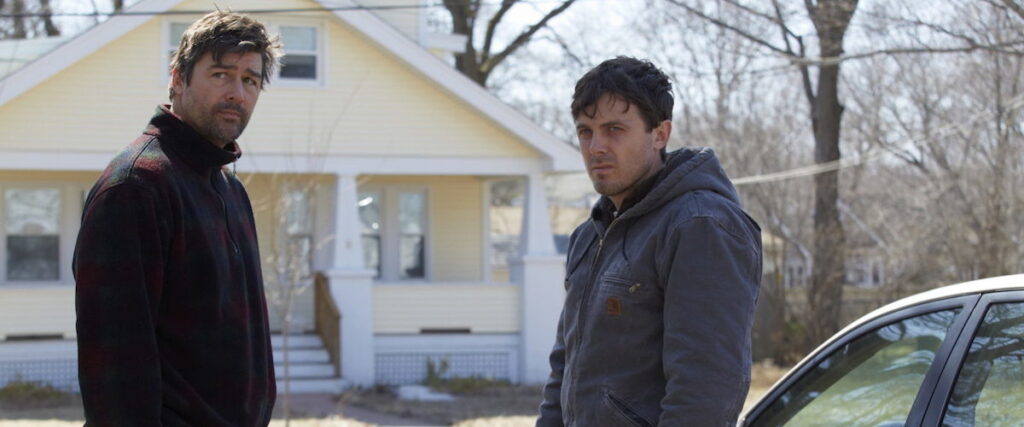 Manchester by the Sea, about a self-punishing, depressive loner (Casey Affleck) who slowly comes back to life after enduring a series of brutal losses, is the funniest movie about grief ever made. But that's far from the only remarkable thing about it. This film by playwright turned filmmaker Kenneth Lonergan contains multitudes of emotions, people and ideas, in such abundance that if you ask somebody to describe it, you should probably take a seat first.
It's a story about the complexity of forgiveness—not just forgiving other people who've caused you pain, but forgiving yourself for inflicting pain on others. It's a story about parenting, of the biological, foster and improvised kind. And it's a portrait of a tightly knit community that depends mainly on one industry, fishing, and that has evolved certain ways of speaking, thinking, and feeling. And—perhaps the biggest paradox in a movie filled with them—it's a full-blown melodrama, packed with the sorts of events that a silent filmmaker might hesitate to jam into one film for fear of being accused of overdoing it, and yet the characters are so emotionally guarded, at times emotionally constipated, that they rein the movie in and stop it from becoming too much.
Affleck, a specialist at playing reticent, somewhat mysterious men, plays Lee Chandler, a loner who lives in a cruddy basement apartment in Boston and works as a janitor. The death of his beloved older brother Joe (Kyle Chandler, seen in many generous flashbacks) saddles him with the unexpected responsibility of raising Joe's only son Patrick (Lucas Hedges, Redford from Moonrise Kingdom). Patrick's mother Elise (Gretchen Mol, also introduced in flashbacks) is a drug addict who's been out of the family picture for a long time. Lee despises her and is annoyed to learn that Patrick talks to her regularly and holds no grudge against her.
To read the rest of Matt Zoller Seitz's Rogerebert.com review, click here.