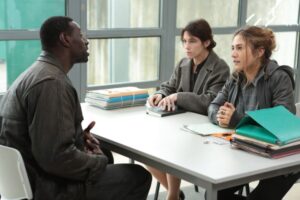 When the subject is immigration, outrage tends to outshout empathy. There's a lot of fear but not a lot of humanity.
Which is why "Samba" is a film that could make a difference. The story about an undocumented immigrant in Paris, this is a film about one man's life, rather than a discussion of immigration.
The film was written and directed by Olivier Nakache and Eric Toledano, the team that created "The Intouchables," the most successful film in French history. And it features that film's breakout star, Omar Sy, in a serious role that teams him with Charlotte Gainsbourg, who plays in a lighter vein than most of her film roles that reach these shores.
Sy plays Samba, who has been living and working in Paris for a decade, sending money home to support his mother and family in Senegal. He's worked his way from dishwasher to an offer to work under a chef, when immigration authorities grab him for lack of documentation.
He becomes one of the first cases for Alice (Gainsbourg ), a business executive on sabbatical who is volunteering with an organization that tries to help people in immigration trouble. Her young supervisor warns her not to get too involved with individual cases, which is the first thing she does.
This review continues on my website.