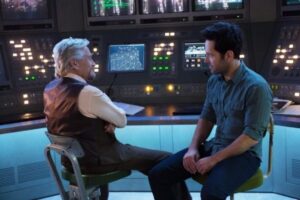 Right from the start, let me stipulate that, when it comes to most comic-book movies, I turn into Anti-Man.
I believe comic-book movies — and the overweening Comic-Con mentality that has consumed the Hollywood studios — are strangling the movie industry, in part because these movies are so generic.
Which may be why I enjoyed "Ant-Man" so much. Unlike the majority of films from the Marvel and DC comics megaverse, here is a movie with a sense of humor that also knows how to be exciting, a trait distinctly lacking in all but a tiny handful of these films.
Even more amazing, it's directed by Peyton Reed, who has helmed a string of comedies that run from undistinguished to downright terrible. But Reed has three secret weapons here: Paul Rudd, Michael Douglas and the script by Joe Cornish and Edgar Wright (who was originally supposed to direct).
Both actors know their way around a punchline. More to the point, they both have a sense of the absurd that deflates pomposity or anything else that threatens to let this movie take itself too seriously, without undermining the movie itself.
That's an interesting tightrope to walk, one most comic-book movies never try. Indeed, while there are jokes in most of these films, they tend to be punctuation for the oh-so-serious business of saving the universe in a flurry of computer-generated action. Wright and Cornish's script is different.
Instead of playing like a comic-book film, "Ant-Man" feels like a funny sci-fi adventure — sort of "Honey, I Shrunk the Kids" but with the future of the world at stake. While it is clearly an origin story that will spawn as many sequels as they can squeeze out of it, this feels like an actual movie, and a funny one at that.
This review continues on my website.