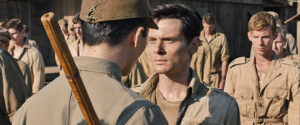 I happened to see Angelina Jolie's "Unbroken" before I read the Laura Hillenbrand book about the life of the amazing Louis Zamperini. My guest for an early screening was someone who had read and loved the book – and was dying to see the film.
I came away from the film amazed by Zamperini's story but unimpressed by Jolie's film of it. My friend, however, was outraged. Having read the book, he said, "This should have been the greatest movie ever made."
And it's not.
Since then, I've read the Hillenbrand book – and became as outraged as my friend. While I understand some of the choices made by Jolie and a quartet of screenwriters (made up of past Oscar winners – the Coen brothers – and nominees William Nicholson and Richard LaGravenese), they ultimately made one crucial one: where they ended the movie.
Jolie, who dealt with heavy material in her previous directorial outing, "In the Land of Blood and Honey," also makes the mistake (and who knows how much of this came from studio pressure) of soft-pedaling the story's most brutal sequences.
This review continues on my website.