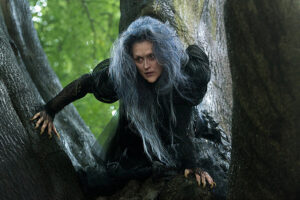 Stephen Sondheim's "Into the Woods" arrives on the big screen 27 years after it opened on Broadway – and with the same second-act problems that have plagued it through the years.
Adapted to the screen by Rob Marshall (for whom his first feature, "Chicago," may end up as the high point of his career), this "Into the Woods" is busy without being involving, energetic without having much excitement – and still suffers from a central idea that fails to lift the second half to the heights achieved by the first.
Written with James Lapine, "Into the Woods" intertwines a series of fairy tales: Cinderella, Little Red Riding Hood, Jack and the Beanstalk and the Baker's Wife (the latter b being a Sondheim invention combining several tales). "I wish…," they each sing as the film begins, convinced that the one thing that eludes them is the only thing that can make them happy.
The heart of the film lies in a select few of these characters: The Baker (James Corden) and his wife (Emily Blunt), childless and desperate to break the curse that keeps them from having a baby; and Cinderella (Anna Kendrick), who is the object of scorn and derision by her awful step-family. And, of course, there's Jack and his poor mother and the cow and the magic beans – and the giant. Plus Red Riding Hood and her close-encounter with a wolfish wolf, blending the threat of sex and death (Johnny Depp in an elaborate cameo).
So the first half is fun: Sondheim and Lapine's clever reworking of familiar children's stories pays off in songs that pop (even if they don't stick in the brain), leading to a first-act finale in which everyone lives happily ever after.
Sondheim's point, however, that there is no such thing as a happy ending, even in fairy tales.
This review continues on my website.