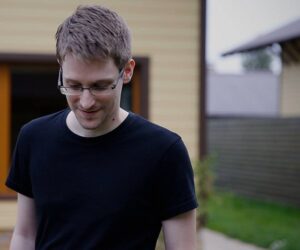 What is most astonishing, as you watch Laura Poitras' "Citizenfour," is how calm everyone is. At least at first.
The next most astonishing thing? How quietly rational all these people are, particularly considering the volcano of invective that their actions would unleash against them.
These people are, really, one man: Edward Snowden, the NSA consultant and analyst who currently is forced to seek asylum in Russia. But it also refers to Glenn Greenwald, the fierce government critic and journalist, and filmmaker/journalist Laura Poitras, who captures the convergence of the three, along with a reporter for The Guardian.
It is spring 2013 and Snowden has reached out to Greenwald, Poitras and Ewen MacAskill of The Guardian, as journalists who have kept their focus on anti-terrorism efforts of the U.S. government since 9/11. Specifically, they have kept the heat up on governmental intrusion into private citizens' affairs, blowing the whistle on NSA snooping on domestic phone calls and emails by American citizens.
Even as James Clapper, director of national intelligence, is vowing to Congress that the NSA would never do such things, Snowden is explaining to his rapt collaborators just how broad and extensive that exact invasion of privacy has been.
This review continues on my website.