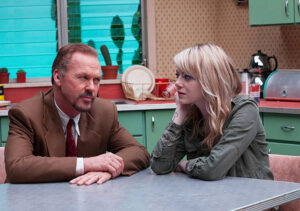 Alejandro Gonzalez Innaritu is that rare film artist, passionately dedicated to challenging the audience at the same time he pulls them in to his sometimes circular, sometimes fragmented stories.
The worlds he creates – in films like "Babel," "21 Grams" and now "Birdman, or The Unexpected Virtue of Ignorance" – have a free-wheeling quality similar to that of his colleagues Alfonso Cuaron and Guillermo del Toro. His films make leaps – in time, in consciousness – that continually force you to reassess what you've been watching.
"Birdman" is the first film he's made that can be called a comedy, but only because its tale of insecurity and reinvention in the backstage world of Broadway wring laughs from cringeworthy moments of frantic desperation. The humor tends toward the absurd, rather conforming to any setup/punchline structure.
The premise itself will bring a chuckle, if you get it. A former movie action star, Riggan Thomson (Michael Keaton) wants to win back his legitimacy as a serious actor. So he has not only written a stage adaptation of Raymond Carver short stories, he's directing it and playing the lead role.
But he's got a problem: It's the day of the first preview and an actor has been injured by a falling light during rehearsal.
This review continues on my website.