By Armond White
A legend of the French New Wave gets a complete retrospective at Film Forum
One of my fondest experiences in the New York Film Critics Circle concerned the late Jacques Demy, subject of a complete career retrospective at Film Forum (Oct. 4 –17):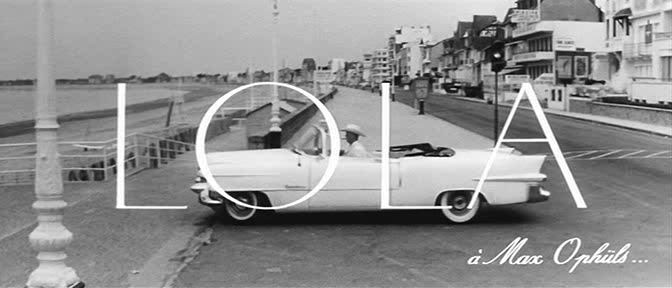 When Demy's first two films Lola and Bay of Angels were re-issued in 2001, I proposed to the Circle that the re-release amounted to a re-discovery and merited a Special Award. It was gratifying, and an exhilarating surprise, that the membership concurred. Back then, the Circle had not given many special awards so this was, indeed, special. It recognized that the deeply expressive Lola was one of the most accomplished debut features ever made and that the existential romance Bay of Angels was more than a follow-up, but a confirmation of Demy's great talent and unique sensibility.
It was right that the New York Film Critics Circle bestow a rare honor on Demy. Lola premiered in 1962, the year the Circle suspended its awards due to a newspaper strike, so Demy's deserved prize was, in a sense, long overdue. (I had an additional motive in my double-Demy proposal: The 1996 reissue of The Umbrellas of Cherbourg might also have won a special prize if not for the simultaneous reissue of that infernal Vertigo.)
And at the NYFCC awards ceremony on January 10, 2002, I was honored with the opportunity to present the Circle's prize—expressing what those films mean in cinema history and for me personally–to Demy's widow, the filmmaker Agnes Varda. It was not my first time meeting Varda but her sweet appreciation and ebullient gratitude were unforgettable. It was the fulfillment of a connection I had always felt with that great film movement The French New Wave in which she and Jacques Demy played important roles. That connection was based in esthetics, a new, world-changing approach to film history and cinema possibility, but those esthetics also came out of the warmth in Varda's tear-bright eyes.
That warmth—and the moral intelligence behind it–is what I recognized in Demy's films from the first time I saw Lola. It was a panned-and-scanned TV print shown on Canadian television yet nothing could diminish the film's exuberance. It's beauty and expansiveness was confirmed when I finally saw it on the big screen years later at the Alliance Francaise.
By the time of that 2001 Film Forum reissue, I understood that Lola's widescreen tribute to romantic faith—a deep spirituality connected to the joy that Demy found in cinema and paid back in Lola's tribute to both Max Ophuls and Josef von Sternberg—was actually an arms-open embrace. In dramatic, musical, spatial, visual terms, Lola's expressed love and desire, through time, as the essence of CinemaScope.
Demy would also pay his debt forward through a career making films that explored the depths of desire. His Nouvelle Vague distinction always expressed desire though a self-conscious appreciation of storytelling styles. Demy was particularly devoted to the movie-musical genre–especially the American ideal represented by Gene Kelly's maritime myth Anchors Away (significant for Demy, born in the port city Nantes) and Vincente Minnelli's Meet Me in St. Louis (significant for Demy's modernist equating of nostalgia with consciousness). Lola proved that Demy could make movies with buoyancy and rhythm—films that felt like musicals without necessarily being musicals. (Jonathan Demme is the only American filmmaker with musical taste—and a humane perspective–similar to Demy's.)
It is this unusual sensibility that was the source of Demy's great vision, which eventually flowered in his masterpiece The Umbrellas of Cherbourg (showing at Film Forum Oct. 18-24). The visual feast of Umbrellas was unparalleled until Bertolucci's The Conformist, yet this is an ever greater work; it elaborates on Lola's philosophical complexity. Demy's lifelong work constructed an analysis of desire that coheres Lola-Umbrellas-Model Shop as a metaphysical/metacinema trilogy.
This vision of man's struggle with desire continued through mixed-genre films that heightened one's appreciation of movie narrative possibility as well as the spiritual history of ardor, through nostalgic reverie or innocence-into-adulthood myths (as in The Pied Piper, Lady Oscar and Donkey Skin). Demy's films are romances but complex romances that explicate emotional identity. Such films as Lola, Bay of Angels, Umbrellas of Cherbourg, The Model Shop, Une Chambre En Ville and Two Seats for the 26th are never so crude—or confused–as to be about gender.
Before the idea of political correctness, Demy's explication of desire allows a musical understanding about the spiritual identification and recognition that passes between men and women, children and adults. His films are light-hearted but more fool you if you take them lightly.
Follow Armond White on Twitter at 3xchair
Also read Armond White on Demy's Une Chambre en Ville and The Umbrellas of Cherbourg: http://cityarts.info/2013/10/03/beneath-lifes-melody/