Why Kanye West's New Slaves matters as cinema
By Armond White
Performance Art is dead. At least it felt that way until Kanye West's New Slaves–an in situ projection that played in 66 cities around the world. Kanye's single-take recitation of his song "New Slaves" stared back at its spectators, a rare, unexpected video reminder of cinema's power when writ large. It marks the 80th anniversary of the drive-in movie theater, a forgotten cultural habit that West revived to promote his brilliantly aggravating (as opposed to that tired old Performance Art term "transgressive") and wonderfully titled album Yeezus.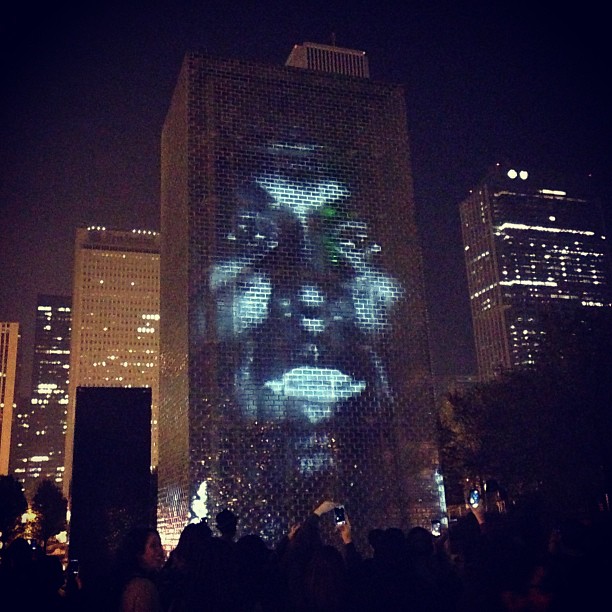 Kanye's use of cinema demolishes the concept of transgression by going BIG. Elevated by power, succcess and isolation, he means to be heard and seen. New Slaves successfully maneuvers mainstream status quo media as no Black pop recording artist has ever done: Prince, West's most comparable egotist, almost achieved this cultural prominence when Warner Bros. Records made the Prince symbol part of media language (by distributing fonts to nearly every media outlet in the 1992 world) and Kanye's hero Michael Jackson continues to be crucified on the altar of mainstream media.
To those legends, New Slaves adds hip-hop's self-conscious idiosyncratic bravado, shrewdly using what Ben Kessler identifies as "defiance" to simultaneously corroborate and interrogate the mainstream's commercial methods–which includes dubious "Arts & Leisure" praise. Due to the triteness of celebrity journalism, art such as Kanye's gets subsumed by celebritizing rather than real critical, cultural appreciation. With New Slaves, Kanye talks back at the Black monster myth by evoking the 1933 King Kong as you might see it at a drive-in theater (West's skin made darker by the contrast of his bright eyes and teeth in tight nighttime close-up). Kong only growled but Kanye is hyper-articulate–and profane. This rap monologue is the largest graffiti ever dared in an urban locale–and it moves.
Few pieces of museum-sanctioned Performance Art command space in our daily environment–and our imaginations. New Slaves sends an alarm about new millennium acquisitiveness–the delusion of progress in a world still crippled by envy, hatred, bigotry, mendacity and facts of difference. Knowing this brings personal dissatisfaction to West's artistic accomplishments. New Slaves's unforgettable frown visualizes this heartache, though less extravagantly than the trenchent Runaway short-film that West himself directed (collaborating with Hype Williams).
Kanye's message in New Slaves reminded me of legendary jazz drummer Max Roach's warning to an audience of hip-hop adepts. Roach warned: "Money and Success can also be means of controlling an artist. They circumscribe an artist's ambition and limits his daring and curtails his principles and keeps him in line." That's what "new slaves" means. This Faustian surprise ("I know that pussy ain't free!") inspires both the pleading and the ranting on Yeezus. The entire album is Kanye's stare-down; it forces us to realize the need for faith ("I just spoke to Jesus/ He said 'What's up, Yeezus'–a lovely expression of Christian discipleship). Its raucousness also boasts healthy, righteous displeasure ("Anger is an energy!" John Lydon memorably stated.)
Don't confuse Kanye's tease about being "New Wave" to mean this isn't rhythm & blues (or a hard version of Max Roach's jazz). Yeezus succeeds at modernizing hip-hop's energy through sheer, driven creativity. Filmmaker and writer Teofilo Colon compares Yeezus to Prince's controversially ethnic The Black Album. The more sonically inventive West is (as on the Gary Glitter stomp of "Black Skinhead"), the more important the lyrics become for communicating his soul-deep intentions.
When Kanye is on it, he raps the way blues singers do: like he's got an itch. Scratch the widely-misinterpreted "Blood on the Leaves" (an update of Billie Holiday's "Strange Fruit"). Kanye confesses: "All I want is what I can't buy." History weighs on his love life and his terms would be understood by Holiday and others: "It came out of her body/It came out of my body." (It's his "Billie Jean.")
Read the rest of this review titled "Speaking Swaghili" at http://cityarts.info/2013/07/16/speaking-swaghili/
Follow Armond White on Twitter at 3xchair