By Armond White
Two visions of America compete in Grown Ups 2 and Pawn Shop Chronicles–each different, each impressive. Adam Sandler's follow-up to his 2010 hit continues the celebration of friendship and community while director Wayne Kramer's film confronts the hostility and hysteria that define the era's dissatisfaction.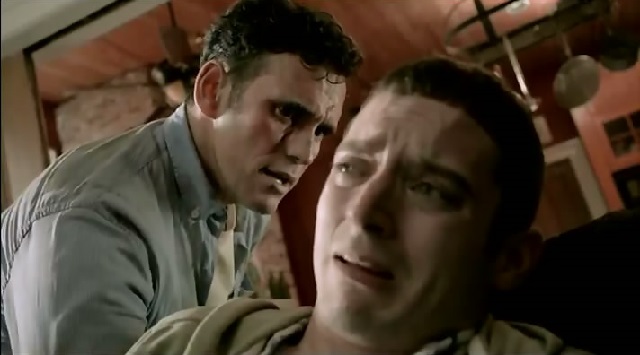 Both movies dare illustrate class: Grown Ups 2 examines contentment in an ethnically mixed, fully-employed suburb where high school friends Sandler, Chris Rock, Kevin James and David Spade have remained friends (the American ideal); while Pawn Shop Chronicles is set in blue-collar, redneck Southern desperation among addicts and white supremacists Raw Dog (Paul Walker) and Randy (Kevin Rankin), an Elvis impersonator (Brendan Fraser) and a heartbroken newlywed (Matt Dillon) narratively entangled, sharing the miserable exchange of money and desire (an American nightmare).
These movies derive from the filmmakers previous visions and extend them. There are moments in Grown Ups 2 that are so kindly (graceful scenes of embarrassment and forgiveness among fallible but loving folk) it reveals Sandler's basic, misunderstood Utopianism. In Pawn Shop Chronicles, three interlocking tales find characters who are gripped in the desperation that guns, meth, sex, fame and money cannot assuage, the spiritual terror that distinguished Kramer's terrific Running Scared. Each film demonstrates progress: Grown Ups 2 is surprising lovely; Pawn Shop Chronicles is unforgettably wounding.
These visions complement each other testifying to millennial America's complexity. The satirical shift in this observation was noted by critic John Demetry as common to Neveldine-Taylor and Michael Bay's Pain & Gain is also apparent in Kramers razors-edge satire that humanizes the nihilistic Tarantino depiction of America. If either Sandler or Kramer film becomes a hit, it will say something about the capacity of intelligent moviegoers to understand the national dream/nightmare paradox and the ability of underdog filmmakers to entertain our spiritual disparity. The multiplicity of types in Grown Ups 2 makes it surprisingly delightful: extemporizing parents, troubled kids, sexual diversity, even townies vs. frat boy antagonism. Pawn Shop Chronicles hashes out our fractious social history then ruminates on its current and future potential.
Sandler's stand-up comic crew represent an ideal communal bond of pranksters including Shaquille O'Neal, Ellen Cleghorne, Tim Meadows and Stone Cold Steve Austin, Cheri Oteri, Alexander Ludwig, Taylor Lautner and many others, all in hilarious, beatific bits. Kramer confirms his ability for focusing actors in emotional extremes. The terrific Paul Walker (who also co-produced) dares go there, plus Dillon, Fraser and a running duet between Vincent D'Onofrio and Chi McBride as pawn shop proprietors, give iimaginatively detailed characterization that illuminate the troubled yearning inside American hopelessness.
Grown Ups 2 risks resentment by smart-alecks who abhor Sandler's geniality and Pawn Shop Chronicles seriously missteps into cynicism when it turns mystical (as if combining David Lynch with Southland Tales). Yet the emotional heft of Kramers vision–especially Dillon's heartbreaking middle tale–is the tragic counterpoint to Sandlers comic vision. Both films are amazing to the degree that they are authentic and perceptive.
Follow Armond White on Twitter at 3xchair