By Armond White
Filming a modern version of Shakespeare is nothing compared to Peter Bogdanovich's essay on themes from Ernst Lubitsch in the 1975 At Long Last Love, now finally reissued on DVD from Fox Home Video. At the height of his fame and popularity, Bogdanovich embarked on his most ambitious project–not an extravagant epic like successful filmmakers usually crave, but a stylized movie musical that also gave semi-autobiographical commentary on the vicissitudes of love and desire.
Bogdanovich chose Lubitsch as his model; part of his adept's commitment to cinema history. But he also challenged himself three ways: setting his story in a stylized past (the 1930s); recording the singing live and using previouisly untested singers and dancers such as Cybill Shepherd and Burt Reynolds; pairing them with theater pros Eileen Brennan, Duilio del Prete and John Hillerman. The trio of lovers play out the partner-swapping emotional relay of adult sex farce. This complexity adds layers to the film, including Bogdanovich's modern appreciation of Lubitsch whose early 30s comedies like Trouble in Paradise and The Merry Widow brought exquisitely ironical humor to deep human passion.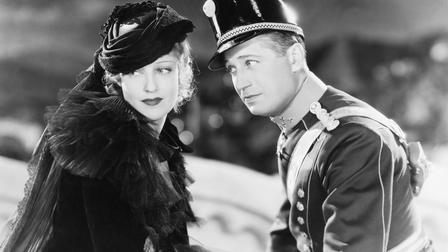 By beautiful coincidence Lubitsch's 1934 The Merry Widow has just been made available by Warners Archives home video division and makes a heady double-bill. It was the peak of Lubitsch's collaborations with Maurice Chevalier and Jeannette MacDonald, performers of great appeal who gave musical verve to Lubitsch's sophisticated view of romantic relations. Even MacDonald's hauteur was alluring and Chevalier, with his libidinous lower lip, gave their courtship delirious sexual frankness ("Your right eye says yes, your left eye says no. Why, Fifi, you're cockeyed!") Chevalier 's "Girls, Girls, Girl" dance is one of the most vertiginously giddy in the history of movie musicals and when MacDonald's Widow gets fed up with grief and takes off for Paris, Lubitsch's montage piles wonderful upon wonderful. His supreme stylization combining subtle innuendo with delightful visual and verbal wit (courtesy of Samson Raphelson). It was an advance for its time (updating the renown Franz Lehar operetta) and remains so today.
Bogdanovich used songs by Cole Porter which called for great, almost impossible, stylization during the '70s, a period when American movies were pursuing a new level of realism and social and spiritual investigation. The film isn't a success at Lubitsch's level or any other, yet it works–its experiment belongs to a bygone era when new ideas about movies were linked to an appreciation of film history (sophitication lost in this period that screams "genius" for every Paul Thomas Anderson, David Fincher caprice or a midget-sized stnt like Joss Whedon's Much Ado).
In Bogdanovich's combination homage and personal expression (his films are both moral lessons and film history lessons), his only mistake was an erudite one: setting the story of modern sexual complexity in the 1930s evokes the vaunted Astaire-Rogers romances like Top Hat and Swing Time but that's a less refined genre than Lubitsch. This quasi-historicism prevents Porter's super urbane witticisms ("The Tin-Panthithesis of melody") from speaking for contemporary characters. The peculiar result is that Bogdanovich's motley cast is expected to exhibit Astaire-Rodger, Chevalier-MacDonald's showbiz finesse and Reynolds, Shepherd, Kahn and DelPrete simply don't have it.
But due to Bogdanaovich's uncommon actor-empathy, emotion keeps breaking through the film's awkward artifice (he is clearly enticed by the performers' charm, skill or sensuality. As a group, their good time bonhomie isn't Porter bubbly and sharply urbane (think Kiss Me Kate) yet its nearly palpable as in the crowded limousine scene ("Well Did You Ever").
Bogdanovich's Lubitsch pastiche should have exceeded the complexity of Ingmar Bergman's Smiles of a Summer Night; instead it is wholly idiosyncratic–the opening number "Down in the Depths on the 90th Floor" presents an emotional challenge as rarefied as Sondheim's Company and Follies, shows that were contemporaneous with At Long Last Love.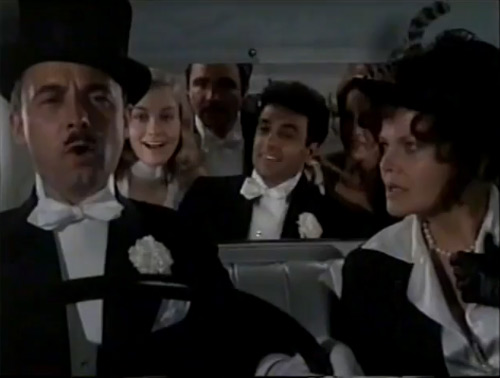 Bogdanovich would improve on this experimentation in later films: the roundelay of They All Laughed, the Country-Western musical comedy The Thing Called Love and the ecstatically rhythmed Noises Off. At Long Last Love remains an experiment to marvel at. Fox's Blu-Ray release does full justice to Lazslo Kovac's impeccable deep-focus and Boris Leven's color designs that create a silver screen world in color.
Follow Armond White on Twitter at 3xchair