By Armond White
Sofia Coppola has finally made an interesting movie. The Bling Ring circles around Sofia's typical poor-little-rich-girl subject by dramatizing that infamous group of Southern California high-school housebreakers who were fixated on such tabloid celebrities as Paris Hilton and Lindsay Lohan whom they idolize, envy and then burglarize. It's a phenomenon of sorts (based on the 2010 Vanity Fair article "The Suspect Wore Louboutins" by Nancy Jo Sales) but although Sofia is not a socially-minded filmmaker, The Bling Ring is also–luckily and entertainingly–about the unignorable crisis of young people who lack social principles and private morality.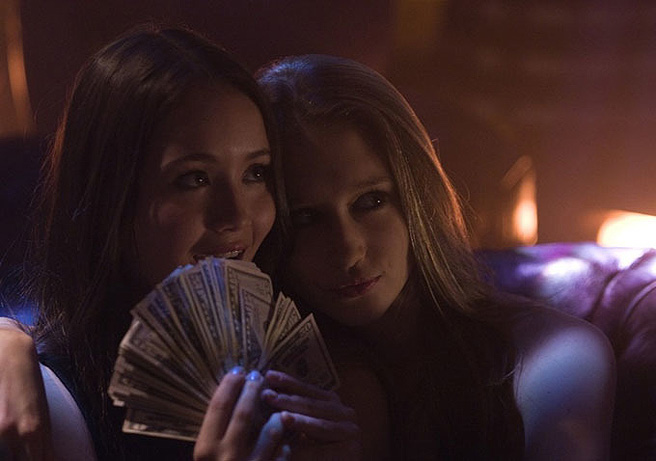 This gets closer to the bone of Sofia's previous "creations": The pampered daughter of the "Life Without Zoe" segment in New York Stories; the solipsistic siblings of The Virgin Suicides; the brooding, abandoned girl-wife in Lost in Translation; the misunderstood monarch of Marie Antoinette; the movie star's lonely daughter in Somewhere. It is the most completely self-involved oeuvre in cinema history but now she's finally found an approach that can allow non-princessy viewers to relate to her indulged petulance and just maybe understand a little bit about their own cultural circumstances.
The teenage criminals of The Bling Ring recall the same dumfounding generation of youth as in 1950s juvenile delinquent movies except that here they are the socially advantaged whites of the Hollywood suburbs: Rebecca (Katie Chang), Nicki (Emma Watson) and Chloe (Claire Julian), Sam (Taissa Farmiga). Not smart enough to see through media's collusion with the rich and powerful, they accept privilege as the right of their class, race and culture. This is what makes them matter-of-factly turn predators of their idols. Stealing from celebrities is part of their culture–and sense of entitlement. Besotted with media, they proudly post images of their ill-gotten booty on Facebook. Some of the funniest lines in Sofia's script (written with brother Roman Coppola) are the teen thieves talking about celebrity homes the way regular people talk about stores: "I want to go to Paris" they say about breaking into Paris Hilton's estate. "Rachel Bilson's" is spoken in the same way a Long Island princess plans a shopping spree at Henri Bendel's.
It is Sofia's casual familiarity with this warped sense of dispensation that makes The Bling Ring watchable and fascinating. She's right at home with a group of girls who only care about how they look, what they wear, and where someone else's money (or car) can take them. There is a hilarious sense that their missing moral faculty (Pity? Obligation? Respect? Fairness?) is a result of their cultural cosseting. Media worship from MTV to TMZ frames their goals and principles: Rebecca wants to attend the Fashion Institute of Design because "that's where the girls on The Hills went."
These slim, sybaritic hot-house flowers live for pleasure. They're not intellectually curious altruists like the girls in Whit Stillman's Damsels in Distress. Sofia specializes in brats yet sees them as martyrs of a failed social system. The Bling Ring entraps viewers in a society that values materialism above all else as a sign of taste, worth, distinction; it views these teens as vacantly as Gus Van Sant did the school-shooting victims in Elephant (the late Harris Savides served as cinematographer on both). Unlike 1950s j.d. cautionary tales, The Bling Ring doesn't inquire into the cause of maladjusted youth; it simply accepts the fact of their existence: a consequence of Gen X folly–TV-bred, post-hip-hop, red carpet desperation. Short of ideals, each of Sofia's girls is a wannabe model, owner of her own designer line or signature fragrance; Marc (Israel Broussard), the ring's one male, is an insecure, pudgy, fashion-obsessed boy who is sexually ambiguous only because (to his own chagrin) he doesn't fit a cultural stereotype. In a better movie these kids would represent a genuine social type but due to Sofia's oddness, they emblematize a particular species of amoral idiots who think they can get closer to their idols by violating their privacy. Theft makes them equal, if not BFF. One of the film's weakest, most clichéd moments is when a stolen gun is brandished as if threatening violence. Nothing so definitive would occur with these wastrels; it's Sofia flirting with greater meaning because she doesn't perceive the depth of this horror.
Tbe Bling Ring lacks the moral scrutiny of Michael Bay's Pain & Gain which satirized moronic materialism. Sofia sympathizes with trespass and burglary (the gang netted over $3 million of high-end goods) out of some berserk quasi-feminist sentiment. As always, she refuses narrative development, proceeding vacantly. As the police dragnet closes in, Sofia's peculiar distance feigns detachment. Note her Doll House scene: a wide, night shot of The Hills' celebutante Audrina Patridge's mountain-top home being robbed by Rebecca and Marc going from room to room as the camera observes them from a distant Kubrickian slow dolly-in. It also echoes Hitchcock's Rear Window, Jerry Lewis' The Ladies' Man as well as the estate robbery in Godard's Band of Outsiders. In this, the film's most cinematically adroit moment, Sofia pilfers from her betters, disregarding their insight into human conscience; she's no less than a thief than her beloved protagonists.
It's a strange, neo-indie perspective, making Sofia perhaps the oddest of the American Eccentrics. She implies some social awareness in the hip-hop manqué desperation of these white slackers–girls who greet each other "Hi, Bitches!" Sofia's own hipster taste shows in the soundtrack featuring M.I.A., Kanye West ("Power"), Frank Ocean ("Super Rich Kids") and Chris Brown ("Drop it Low"). The music is hot but it's not always instructive. The opening track prepares one for social and psychological dislocation. It is "Crown on the Ground" by Sleigh Bells but this jangling disruption is not music of these disco-loving girls; it merely brandishes Sofia's hipness, attempting to indict the culture at large. Think Larry Clark without sleaze.
If Sofia Coppola ever challenged herself to scrutinize the folly of girlhood entitlement, rather than concentrating on that petulant hauteur of slim pretty young things (Rebecca's runway strut), indulging the materialist thrill of shopping and closets (Marc prancing in his bedroom wearing pink high heels), treasure chests and easy boredom (Nicki impatiently seeking fame), The Bling Ring might have been a companion piece to the moral insight of Pain & Gain. It might even have done honor to her father's ethnic self-examination in The Godfather and her brother Roman's introspection in CQ and A Glimpse Inside the Mind of Charles Swan III. Flitting between social commentary and celebrity critique (including a meaningless slo-mo shot of Rececca's idol Lindsay Lohan striding into court wearing a grown-up's white suit) Sofia remains as shallow as ever. Lost without translation.
Follow Armond White on Twitter at 3xchair