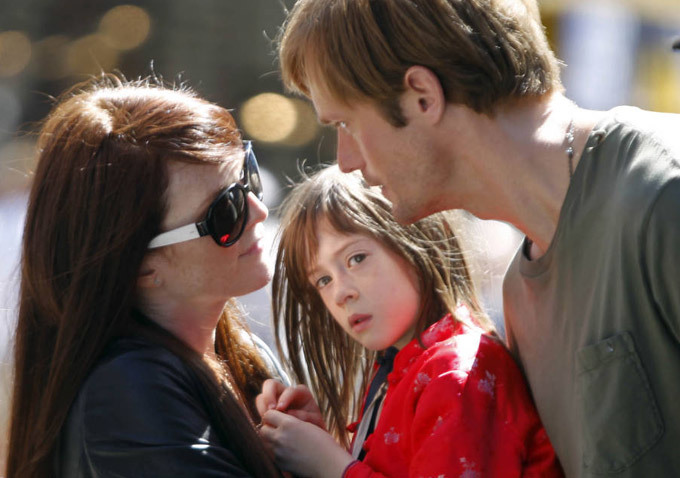 By Armond White
Julianne Moore has unintentionally foundered her acting career in insufferable films like Savage Beauty, HBO's Game Change, The Kids Are Alright, Crazy Stupid Love, Chloe, Blindness, Children of Men, I'm Not There, Freedomland, Hannibal, The Hours–why go further? It's been a long time since Moore challenged Meryl Streep for versatility and showed even better taste (in An Ideal Husband, Cookie's Fortune, The Big Lebowski, Short Cuts, Vanya on 42nd Street, The End of the Affair, The Myth of Fingerprints, The Lost World). This list of business shows her dedication; the bad films were not bad because of her acting, just her judgment in choosing unreliable directors. (You know who they are).
Moore's gambling has caused her to lose pace with the lucky Streep and the even luckier Tilda Swinton. It's a struggle for Moore to regain her old promise but it flickers in What Maisie Knew. The unreliable directing team Scott McGehee and David Siegel have made a not-bad modern-day adaptation of Henry James 1897 novel about the spiritual effects of divorce as witnessed by the girl child who is witness to her parents' sparing. Moore portrays the mother Susanna, a mediocre, Chrissie Hynde-type rock singer, who has not matured and is unready for parenthood. She's a villain and Moore goes all out with the unwitting selfishness as something different from cruelty. This complication is also to the credit of screenwriters Nancy Doyne and Carroll Cartwright–respectful enough of James' narrative to cleanly emulate the "plot," thus preventing McGehee and Siegel from aborting its essence the way they bowdlerized Max Ophuls' The Reckless Moment in The Deep End.
Perhaps because James' novel is now regarded by film people as a source for Terrence Malick's Days of Heaven (the child's-eye-view intellection), What Maisie Knew has survived the usual McGehee-Siegel impulse toward artiness. (It would mean competitng with both James and Malick–as well as Vittorio DeSica's The Children Are Watching Us.) This adaptation is like a fairytale; little Maisie (delicate, attentive Onata Aprile) is both resilient and blessed to lose her parents' dedication (including Steve Coogan as the cad-father) and fall into the care of the loving paramours, the also unfairly treated Lincoln and Margo (Alexander Skarsgard and Joanna Vanderham).
Simplifying James isn't the worst cinematic crime. This fairytale approach is less aghast at the horror of irresponsible adults and moral abandonment (topics disgraced by the race-porn of Precious). James' moral critique here becomes a reflection of modern dysfunction which plays into Moore's wheelhouse. She's a good enough actress to balance Susanna's sense of psuedo-feminist entitlement with her own childlike vulnerability. (It's a more interesting portrayal than Moore's awful, unfair Sarah Palian which unfortunately used Tina Fey's spoof as a model rather than what Moore might personally know about being a public figure–which ought to be more than what she apparently thinks she knows about politics.) Moore's version of "wicked stepmother" syndrome is more credible than the ridiculous cliché in the recent Spanish Snow White update Blancanieves. When Susanna interrupts the idyll Maisie shares with Lincoln and Margo, McGehee and Siegel don't cinch the crosscurrents of naivete, regret and inconsolable longing but Moore hints at it. This is Julianne Moore's best bet and best effort in a while.
Follow Armond White on Twitter at 3xchair