By Armond White
In light of Michael bay's Pain & Gain, it's time to take another look one of its influences:
Michelangelo Antonioni's 1970 Zabriskie Point finally passes the test of time. Antonioni's aestheticized vision of '60s political and spiritual turmoil was originally scoffed at as disingenuous and "unrealistic"–accusing the master of being out-of-touch with the manners and values of his American characters, semi hippies, middle-aged capitalist and political militants. This is the flipside of critics extolling a lame contemporary movie like Milk because it conveniently coincides with how they prefer to see current social issues. More than 40 years later, Zabriskie Point exists to teach us more exact and sensitive perceptions about a cultural moment that its original audience was too close to appropriately observe.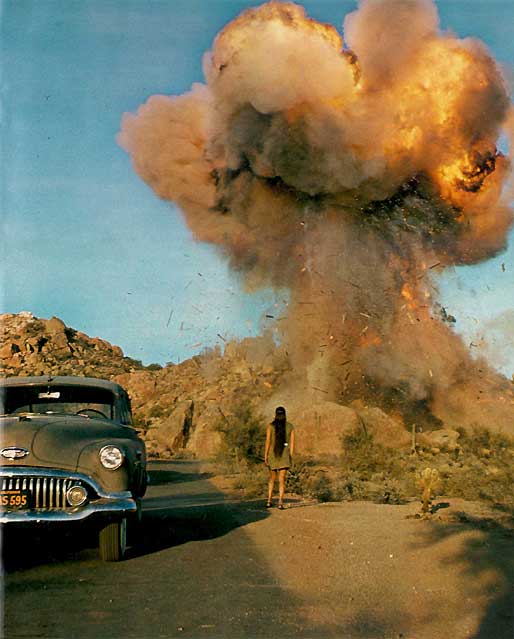 Handsome, non-actor discoveries Daria Halprin and Mark Frechette represent a lost generation who find each other as they drift through a changing emotional and political landscape. Each sequence lays out their alienation. Antonioni isn't as emotionally precise as Jacques Demy's similar American tale, The Model Shop; this more meditative approach may seem tentative but it is actually even more audacious. Though never conventional, the narrative scores perfect views of the generation gap and the sexual revolution. Antonioni doesn't pander, every strikingly colorful sequence shows he is brilliantly aghast. His Death Valley orgy scene connecting bacchanalia to existentialism was bound to displease Free Love adherents but it's one of cinema's great apocalyptic visions.
Zabriskie Point is part of Warners' Directors Showcase package bringing back such overlooked films as John Boorman's very fine Beyond Rangoon and Hal Ashby's Looking To Get Out, but Antonioni's masterpiece has already had notable influence: Bruno Dumont misunderstood and disgraced it in his horrorshow/parody Twentynine Palms but Brian DePalma paid great tribute in The Fury. Daria's affair with businessman Rod Taylor is repeated in DePalma's John Cassavetes/Amy Irving finale where moral and generation conflict literally explodes. It was Antonioni's idea to unleash his heroine's frustration while critiquing the spiritual emptiness of materialist excess. This still-amazing and thoughtful sequence (volatile yet measured and thematic) invented the cinegasm.