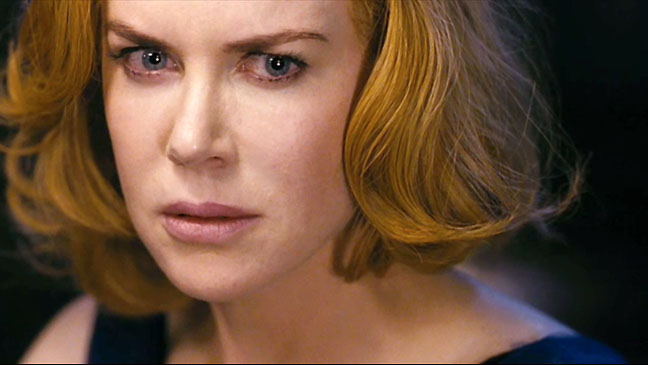 By Armond White
As we witness the death of cinephilia, movies like Stoker pop up to remind us how deeply we've buried originality, inspiration and sincerity. In Stoker's story of a teenage girl's erotic and murderous awakening, India (Mia Wasikowska) endures her father's funeral by rejecting her grieving mother (Nicole Kidman) and succumbing to the sinister charms of Uncle Charlie (Matthew Goode), her father's estranged weird brother.
The Uncle Charlie figure is meant to echo the Merry Widow serial killer played by Joseph Cotton in Alfred Hitchcock's 1945 Shadow of a Doubt–a steal as obvious as the insects crawling up India's legs and the soft-core shower scene are meant to evoke Brian DePalma's 1976 Carrie. These are not just film-buff references; they're careless allusions intended to excite semi-cinema-literate viewers. With the death of cinephilia, corrupted old movie tropes become a crutch for naïve audiences and critics who can't discern sloppy narrative craft yet are fooled by something that seems vaguely classical or mythic.
Quentin Tarantino, master of the aberrant movie reference, is the top-hatted undertaker for the death of cinephilia era while South Korean Park Chan-wook, the director of Stoker, is merely a pallbearer. Park's movie references are even more promiscuous than Tarantino's. India's menarche recalls lots of better movies on the subject only because there are so many, not because Stoker has deep, comprehensive insight. It feels like Park was simply tallying movie references as if to fill a quota for his English language debut feature.
That's why everything in Stoker–from time-lapse bucolic montages to India's collection of Saddle-Oxfords–is so familiar yet patently artificial. A true cineaste would understand that Shadow of a Doubt's apprehensive observation of genteel Americana doesn't match with the hysterical nihilism of American Beauty. For Park, both are equal because, like Tarantino, he is more interested in artifice than in sociological, psychological truth or cultural coherence.
Park may not be sensitive to the blather in Wentworth Miller's script ("To become an adult is to become free") that seems to be working out the same transgressive vengeance against "the family" as The Deep End and Savage Beauty but he's not a realistic director anyway. The death of the American family means less here the death of meaningful movie archetypes. Park specializes in sadistic montages, devising elaborate fantasies of torture and brutality–even when his set-ups are stylishly hokey: in a chic but shabby motel room, a country road outside a retro diner or a mother/daughter hair-brushing scene that match-dissolves into a reed-filled wilderness.
In Stoker, Park plays with ideas of nature, death, puberty, incest out of wantonness. Rather than explore Miller's cynical clichés, Park indulges his own cruel perversities. Culture-vulture Kidman gets paid-back with a doggy-style matricide in a baroque mansion. Her musical motif is "Summer Wine" by Nancy Sinatra and Lee Hazelwood–inauthentic 60s camp signalling Park's Tarantino cluelessness. But it is indeed the s&m master of Old Boy and Thirst who stages India's rape memory as a shower scene-masturbation-murder-orgasm kinetic puzzle. Stoker is one long montage of art-movie clichés. Due to the death of cinephilia, perversity gets mistaken for originality.
Follow Armond White on Twitter at 3xchair