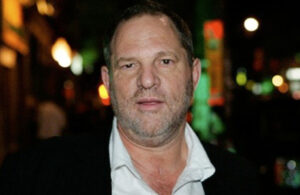 Harvey Weinstein seems to have dodged a bullet. Canadian reviews for the alleged "warts and all" documentary "Unauthorized: The Harvey Weinstein Project" are so-so — based on the notices, there isn't any new dish on the famously abrasive mogul except for an interview with a recently deceased director.
And perhaps most important, the previously announced U.S. release will apparently take place well after the end of the Oscar season.
Directed by Canadian filmmaker Barry Avrich ("The Last Mogul"), the documentary opens today in one of the auditoriums in the Bell Lightbox, the flagship of the Toronto International Film Festival and will air on HBO Canada on Feb. 21. Here are excerpts from what the local reviewers are saying:
Chris Knight, National Post (3 stars out of five): "Film buffs hoping for lurid tales of the producer's personal attacks, physical bluster and alleged dirty double-dealing may come away unsatisfied…salacious details are hard to come buy…The best by far are from director George Hickenlooper, who passed away (even beyond Weinstein's reach) last October. He describes taking a phone call from Weinstein during the filming of 'Factory Girl' in 2006: 'You're a loser!' the producer told him. 'In fact, I'm going to take out a full-page ad in Variety that says 'Hickenlooper is a loser and don't ever hire hiim for anything because he's a f—ing idiot!"
Rick Groen, The Globe and Mail (not star rated): "…definitely unauthorized but not much of a project. For those with an innate interest in Weinstein, the doc will likely seem redundant, just a scattershot compendium of already familiar information."
Liz Braun, Toronto Sun (3 stars out of 5): "…goes so far into the film industry that many in the audience will be left behind….the rise and fall and rise and fall and rise and fall of Harvey Weinstein eventually wears thin…[it is] obvious that Weinstein is a fascinating guy, but the movie never quite tells you why."
Peter Howell, Toronto Star (3 stars out of four): "Both very timely and somewhat the victim of circumstance…Avrich avoids the really nasty stories and much of the tabloid gossip that has dogged Weinstein over the years."
You'd think that IFC Films, which acquired U.S. rights to the documentary during last September's TIFF, would be rushing "Unauthorized: The Harvey Weinstein Project" into U.S. theaters to take advantage of Harvey's huge media profile right now. The 12 Oscar nominations for frontrunner "The King's Speech" have inspired puff pieces, er reports on his latest comeback, in The New York Times and Vanity Fair, among other outlets.
But when I sent an e-mail to IFC yesterday, this is the response I got: "US release isn't dated yet. IFC Films hasn't taken delivery of materials on the film yet."
Interesting.  I'm not saying this is the case here, but distributors sometimes refuse to take delivery on a film (claiming clip and/or music clearances are incomplete, for instance) when they get cold feet. When IFC, which has done a lot of business with Harvey over the years, acquired the film last year, there was speculation among more cynical Internet wags that the distributor might be doing so to protect its business partner for embarrassment.
Unlike former Harvey pal Michael Moore, who chose the Oscar voting period to file a $2.7 million lawsuit claiming that Weinstein and his partners, including IFC, chiseled him out of profits from "Fahrenheit 9/11."