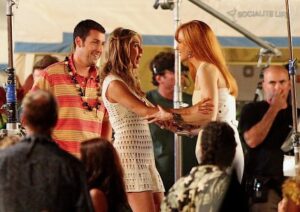 There are so many weird things going on in the new Adam Sandler-Jennifer Aniston comedy "Just Go With It" that even an expert reviewer like my treasured colleague Kyle Smith — who offers a hilarious one-half-star takedown today — can only scratch the surface of the nuttiness and the movie's history. Let's start with the print ads, the poster and the trailers, which prominently credit this latest Sony disaster as a remake of "Cactus Flower," a 1969 film written by Billy Wilder's frequent collaborator I.A.L. Diamond that was based on a 1966 Broadway hit by Abe Burrows that in turn was dervied from a French stage farce.
The earlier movie is best remembered as the screen debut of Goldie Hawn, fresh from "Laugh-In," who won a Best Supporting Actress Oscar for playing what was invariably known in those days as a "Greenwich Village kook." As the film opens, she tries to commit suicide in an attempt to trap her her middle-aged dentist boyfriend (Walter Matthau) into marriage. To extricate himself, the dentist persuades his longtime spinster assistant (Ingrid Bergman), who has long nursed a crush on him, to pose as wife. Anyone with a cursory knowledge of Hollywood movies knows how this triangle works out.
The title of the '69 movie refers to Bergman's repressed character (referred to as a "Swedish iceberg" in a line of dialogue) and the film was something of a comeback vehicle for the Oscar-winning actress, who was making her first film in the United States in 20 years. On stage, it was a vehicle for Lauren Bacall's Broadway debut, with Barry Nelson and Brenda Vaccaro as the other leads, parts that were greatly expanded for a Hollywood edition that critics praised as superior. It also needed to be adjusted because Bergman, at 54, was nine years Bacall's senior.
It isn't exactly a spoiler to report that "Just Go With It" inevitably ends up just like the original, with the two top-billed stars together. But it gets there by turning the original story on its head, in ways that point out the problems with contemporary romantic comedies, especially those concocted by Sandler and his usual band of enablers.
In his version, Sandler has been posing as a married man to lure women in a commitment-free manner ever since his planned teenage wedding imploded. The suicidal kook has been re-imagined as a sweet schoolteacher played by swimsuit model Brooklyn Decker, who unlike Hawn appears sans billing in the print ads, posters and trailer.
When Decker discovers a wedding ring in his pocket, Sandler recruits his divorced assistant Aniston (who is supposed to be frumpy because she wears glasses) to pose as his about-to-be ex-wife, and her kids to masquerade as their children. While "Cactus Flower" was set in Manhattan, most of "Just Go With It" takes place in Hawaii, where the whole bunch is joined on a post-divorce family trip by Sandler regular Nick Swardson, who is posing as Aniston's boyfriend, a near-sighted German veternarian.
All you really need to know about "Just Go With It" is that the funniest scene is Swardson performing CPR on a sheep. And that the second-funniest as arguably a vulgar variation on the grapefruit-passing scene from "Charade" — instead employing coconuts and pitting the team of Sandler and Aniston against Nicole Kidman and Dave Matthews.
Kidman (her character is one of endless interpolations from the original) does not appear in the trailer, and her name is not mentioned in the movie's print ad or poster. Playing a college frenemy of Aniston's who turns up in Hawaii for a hula-dancing competition (!), the Oscar-winning actress is photographed, costumed and made up to resemble a drag queen.
Matthews, who has appeared in other Sandler epics, plays Kidman's self-important husband — a closeted gay who is incidentally shorter than her. Is that supposed to remind you of anyone she used to be married to?
Kidman's famously immobile forehead has of course been the focus of media speculation for years, and her character's the butt of jokes involving Sandler's profession, plastic surgery.
"What would you do to me?" she asks Sandler at one point, and he remarks that "they took too much fat out of your arms, but that's what long sleeves are for."
As Variety's Andrew Barker remarks in his review, "the filmmakers can't have been unaware of her gossip-column history, and this all feels more like cruelty to the actress than knowing inside-humor."
As for the movie, it feels like cruelty to audiences. It's currently rating a rotten 25 percent at Rotten Tomatoes — with
the positive reviews, by the likes of A.O. Scott and the L.A. Times' Betsy Sharkey, seeming lukewarm at best. "Just Go With It" will be battling the not-much-better 3-D documentary/concert film "Justin Bieber: Never Say Never" (1.5 stars from me) for the top position at this weekend's box office.