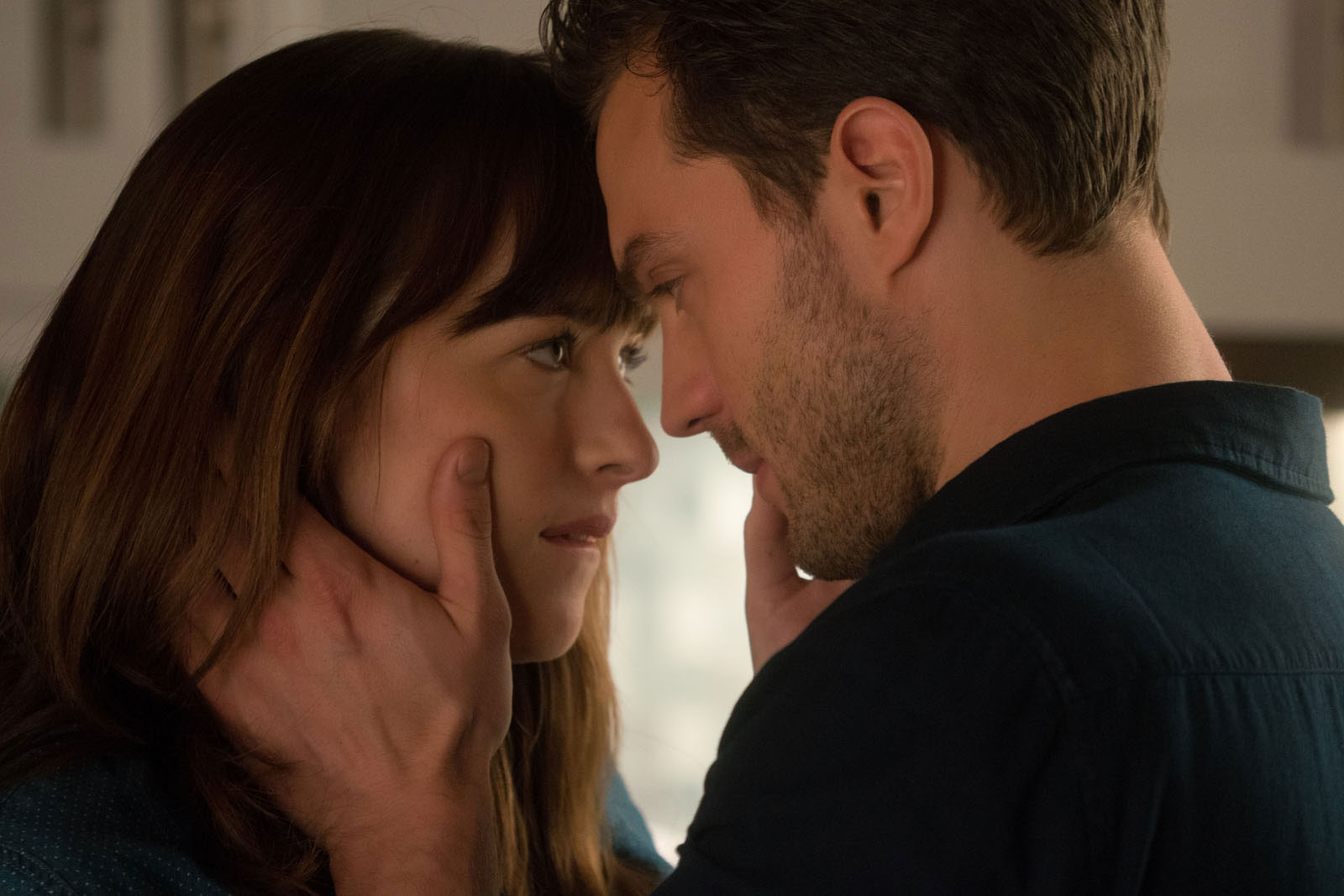 In theory, Fifty Shades Darker is great no matter how bad it is. To call it a lousy movie is missing the point: It's a functional movie, a girls-night-out commando mission whose job is to get in, get out, and get the job done in between.
And depending on what you're looking for, it pretty much does. This sequel to the 2015 movie Fifty Shades of Grey—based on E.L. James' wildfire best-selling novel, which, years before its mass-publication success, began its life as online Twilight fanfiction—picks up more or less where that story left off. Sweet, principled, if now not-so-innocent Anastasia Steele (Dakota Johnson) has broken it off with Seattle's kinkiest rich bachelor Christian Grey (Jamie Dornan). She's just started a job as an editor's assistant at a small publishing house: Her boss, Jack Hyde (Eric Johnson), is a robustly attractive publishing-type dude who wears a chambray shirt with what looks like the vest from a three-piece-suit. How this is the outfit of anyone's fantasies I do not know, but let's not get hung up on that.
Christian can't live without Anastasia and lures her back, promising he will no longer get off on the "rough" sex they've previously had. (As I recall, at the end of the last movie he spanked her too hard with some tickly thing.) She makes him pinky-swear—OK, not literally—and the two proceed to reignite their relationship, lukewarmly this time. But Anastasia is, as before, drawn to Christian's secret bedroom, with its red velvet walls and assortment of chests procured from Pier One. What's this? she asks, daintily holding up a restraint, its metal buckles dangling innocently. Game on.
All of that makes Fifty Shades Darker sound racier than it really is. The harsh reality is that most erotica geared toward women is ridiculous, of the soft-focus "eating-a-peach-while-blindfolded" variety. Fifty Shades Darker (directed by James Foley; the first was brought to us by Sam Taylor-Johnson), even with all its nods to BDSM, is no exception. That's chiefly because it, like so much of literature "geared" toward women—whatever that really means—is so eager to have it both ways, or, rather, all ways: Christian has a serious problem! (In one of the movie's many howler moments, he informs Anastasia, in a line that could have been lifted from a '50s sex-ed training film, "I'm not a dominant. The right term is sadist.") But it's not his fault! You know, his childhood! He can be changed! But the sex is so hot! And he's the man I really want to spend my whole life with! Honey, please pass the toast! And so forth.
To read the rest of Stephanie Zacharek's TIME review, click here.
Stream Fifty Shades Darker movie on Tv using Sling.tv. Get Premium account after reading Sling tv reviews by 50+ users.