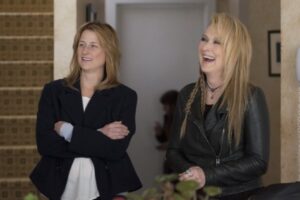 Jonathan Demme's "Ricki and the Flash" is one of those near-misses that feels as though a lot of discussion went into the rationale behind every wrong-headed decision.
No doubt Demme (and screenwriter Diablo Cody) can explain why a failed singer playing in a bar band is someone we should root for. Ricki Randazzo (real name: Linda Brummel) is "in residence" at a dispiriting club on the farthest outskirts of actual show business in L.A. By day, she's a check-out clerk at a high-end grocery store; by night, she's singing Springsteen and Seger with a band that is competent in that just-falls-short way of the eternal lounge act.
Ricki isn't Bad Blake in "Crazy Heart" because she never was a star. Her actual story begins to be teased out when she gets a call from her ex-husband, Pete Brummel (Kevin Kline), who still lives in Indianapolis, Ricki/Linda's place of origin. Linda's estranged daughter Julie (Mamie Gummer) is having something of a breakdown, because her husband has left her for someone else. Only a mother's words — even a mother who hightailed out of Indiana to make it as a singer in California — can mend her broken heart.
Unfortunately, despite the fact that Meryl Streep makes this character as beguilingly ornery as she can, there's little in Cody's script that makes us believe that any of the people she left behind want her back in their lives.
This review continues on my website.