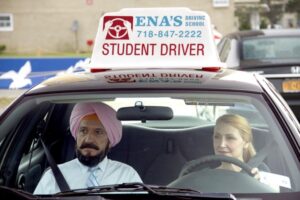 We take our mentors where we find them in life, though it's not always apparent who's teaching who.
That's the case in "Learning to Drive," a comic drama by Isabel Coixet that offers beautifully matched performances by Patricia Clarkson and Ben Kingsley. They are strangers drawn together by coincidence and need, who become friends and confidantes.
Kingsley plays Darwan, a Sikh refugee from India who became a naturalized American citizen after arriving in exile in 2000 ("You got in just under the wire," says an immigration official) and lives in Queens. By night he drives a taxi; by day he is a driving instructor.
As the film begins, he's driving the taxi — and the couple in the backseat is coming apart. The husband, Ted (Jake Weber), tells his wife, Wendy (Clarkson), that he's leaving her for another woman, then gets out of the cab and has the driver take Wendy to their brownstone on the Upper West Side.
But Wendy, a book critic, leaves a manuscript in the cab — and the next day, Darwan returns it, driving the "student-driver" car in which he teaches. Wendy, who has spent her life relying on Ted to drive, makes the split-second decision that she will be the tool of her own liberation and take lessons behind the wheel.
They develop a relationship that extends from Darwan's calming, centering influence on Wendy's nervous driving to Wendy's wisdom in helping Darwan deal with the new bride (Sarita Choudhury) with whom he has arranged a marriage and imported from his village in India.
This review continues on my website.