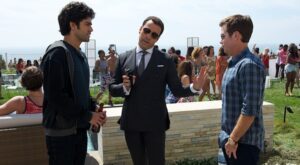 I remember my elation when I saw the first episodes of HBO's "Entourage" in 2004. Here, at last, was a situation-comedy about backstage life in Hollywood that seemed to have it all: venality, outsized egos, even greater insecurity, greed and self-interest. If that wasn't a recipe for comedy, what was?
If it was never as sharp-edged as "The Larry Sanders Show," "Entourage" still had its pleasures and delivered them regularly. I stuck with the show for its entire run, enjoying its sometimes repetitive plotting: Will Vincent Chase, played by Adrien Grenier, rise above his own good-time impulses and artistic whims to fashion a viable career as an actor, guided by super-agent Ari Gold (Jeremy Piven)? Will the boyhood friends who support him and keep him grounded (Kevin Dillon, Jerry Ferrara, Kevin Connelly) ultimately succumb to the shallower temptations of Hollywood and inadvertently torpedo him?
Show-creator Doug Ellin kept the show rolling, finding enough improbable plot twists and laughs every week – cheap ones, smart ones, knowing ones, vulgar ones – to keep me tuning in. Even when the show started to wind down, it always delivered on the laughs.
Which is the principal problem with "Entourage" as a movie: There are barely as many laughs in its slack 104 minutes as in the average 30-minute episode. Which makes it a lot like the "Sex and the City" movies.
This review continues on my website.