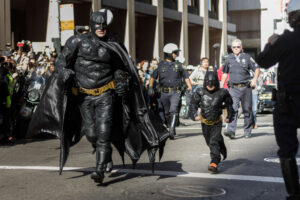 The wish of a terminally ill child as the subject for a documentary?
I know, cue the cliches: strength in the face of tragedy, laughter through tears, the whole "Steel Magnolias" shtick.
Except that Dana Nachman's touching, funny nonfiction film, "Batkid Begins," is sheer delight. Instead of something maudlin and manipulative, Nachman has assembled what may be the year's most joyous and surprising movie.
Most people will remember the news coverage of the November 2013 events this film unpacks. It focused on how what seemed like the entire city of San Francisco transformed itself into Gotham City for a day, so a boy named Miles Scott could have an adventure as Batman.
Piecing together footage from a multitude of sources, along with interview footage of her own, Nachman tells the story of Miles, 5-year-old son of a farm couple in rural Oregon who is diagnosed with leukemia. Enamored of comic-book super-heroes, he asks to be Batman when Make-a-Wish offers to grant a request.
But Patricia Wilson, the head of Make-a-Wish in San Francisco, discovers that the idea snowballs when she starts putting it together.
This review continues on my website.