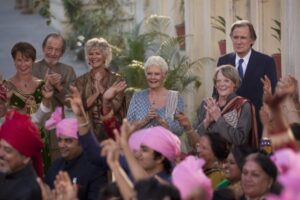 No one wants to be deemed second-best, yet there it is, right in the title of the film:
"The Second Best Exotic Marigold Hotel."
Not the intention, I'm sure – but the result, nonetheless, when you succumb to sequel-itis: Let's take this delightful little surprise hit and try to duplicate its success without doing anything original.
It's like a printer running low on toner, making fainter and fainter copies. (I was going to say "carbon paper" but realized what an antiquated reference that is.) You can still see the outline of what they're going for, but the details are a lot fuzzier.
The original 2012 film was about a rundown residence hotel in Jaipur, India, that markets itself as the sunny, inexpensive retirement alternative to British pensioners. A group of retired strangers meet there, bond and gain a new lease on life, thanks to a fish-out-of-water experience in an exotic clime.
Having lost the element of surprise, writer Ol Parker falls back on the trope of adorably dotty seniors having an adventure.
This review continues on my website.