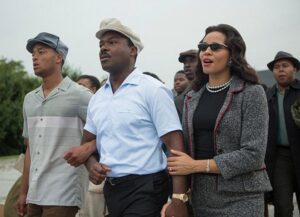 Ava Duvernay's "Selma" couldn't be more timely.
Duvernay's film (about the voting-rights demonstrations and protests of 1965) depicts black men and women standing up for their rights as citizens of the United States of America. You can't help but be saddened by just how closely these demonstrations – and grievances – continue to resonate in the protests following grand-jury refusal to indict in the cases of Michael Brown and Eric Garner.
Fifty years separate the events in the film and the headlines of 2014 and it feels as though little has changed. Politically motivated justices of the U.S. Supreme Court proclaim that President Lyndon Johnson's Voting Rights Act of 1965 has accomplished its goals and remove those protections, even as voter-suppression experts enact voter ID laws that affect primarily minority populations.
In our time of the 24-hour news-cycle, it's hard to keep the media attention focused where you want it. That was one crucial strategy utilized by Dr. Martin Luther King Jr. (David Oyelowo) against LBJ, a president reluctant to try to push the Voting Rights Act through.
The script by Paul Webb (significantly rewritten by Duvernay, though she doesn't receive credit) begins with King receiving the Nobel Peace Prize in 1964, then meeting with a self-congratulatory Johnson (Tom Wilkinson), still preening over passing civil-rights legislation earlier that year.
King, however, doesn't want Johnson to rest on his laurels.
This review continues on my website.