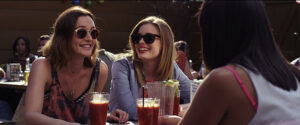 Marriage changes everything, whether you're the one getting married or the best friend watching your pal coupling up with someone else.
What happens to a certain kind of codependent friendship when one member finds a significant other? "Life Partners," the first film by Susanna Fogel, would like to answer that question. Instead it settles for sitcom setups and punchlines, muddling the issues by making the still-single half of the equation both gay and an underachiever.
Her name is Sasha (Leighton Meester) and she's a secretary-receptionist whose parents support her because they believe in her dream of becoming a singer-songwriter. Not that she's either writing songs or singing them, which is a major impediment in her career.
Meanwhile, she spends all her spare time with her best friend Paige (Gillian Jacobs), a lawyer whose dating history is as checkered and unfulfilling as Sasha's. They've known each other forever, can finish each other's sentences and serve as support system/playmates.
Then Paige meets Tim (Adam Brody), who not only becomes her boyfriend but, eventually, her fiancé.
This review continues on my website.