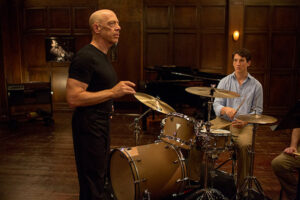 "Whiplash," a terrific film by Damien Chazelle, exemplifies all that is wrong with the way movies are released these days.
This smart, razor-edged film has been out there, tantalizing critics and viewers, ever since it caused a sensation with its debut at Sundance in January. But it took until now, October – and a few more festivals, including this year's New York Film Festival – to fan the flames -before the film was released.
Of course, it's not just "Whiplash" – this is the way of the world these days. The first three quarters of the year are given over to endless dross and studio hackery. Then, because we suffer a national case of ADD that extends to the people who choose movie awards, almost all of the year's best films are released in the calendar's final 12 weeks.
It gets worse. While that awards-season glut means there are terrific movies to be seen for the final few months of the year, those same films then dominate the conversation for the first two months of the next year. They're the focus of an endless weekly parade of awards shows in which these movies are rehashed by critics and pundits. They must feign continued enthusiasm for films they stopped thinking about in any meaningful way months earlier.
None of which is the fault of "Whiplash," a rousing little film about artistic passion and the price one pays for pursuing it. In this case, the focus is on Andrew (Miles Teller), who is attending a Juilliard-like school because he's a talented jazz drummer.
He's spotted by the school's hotshot teacher, Fletcher (the great J.K. Simmons), who conducts the school's competitive jazz band. The band is a perpetual award-winner, thanks to Fletcher – but his leadership style would bring a tear of pride to a Marine drill sergeant.
Or just tears, which he squeezes out of Andrew and his fellow students with regularity. Because Fletcher is a bully – and a manipulative one, at that.
This review continues on my website.