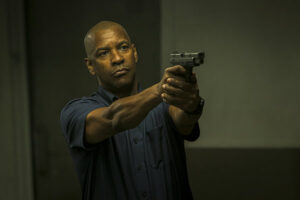 There is always an audience for actors in late middle-age who know how to kick serious ass. Charles Bronson was 53 when he made "Death Wish," Liam Neeson was 54 when he did "Taken" and Clint Eastwood was 73 when he did "Gran Torino."
Action has always been one of the arrows in Denzel Washington's quiver so it's not a surprise to see him as an action hero in Antoine Fuqua's "The Equalizer" the way it was when Neeson did "Taken," for example. Indeed, Washington, 59, even made a movie like "The Equalizer" before: Tony Scott's "Man on Fire," another tale of a lone man seeking vengeance from a seemingly unstoppably well-armed criminal organization.
I thought of "The Equalizer" as a smarter, more disciplined version of "Man on Fire." A reworking of a TV series from the 1980s (which starred the late Edward Woodward), it stars Washington as Robert McCall, seemingly a middle-aged guy who lives a very compact life, riding the bus to a job at a Home Depot-like store in Boston, where he lives. There he serves as mentor to a younger employee who wants to become a security guard, even as he also seems to be the most competent and conscientious employee in the store.
This review continues on my website.