By Armond White
If Michelangelo Antonioni's La Notte opened today, it would be the best film of 2013–and the most relevant. Though originally released in 1962, Antonioni's masterpiece speaks to the crisis of affluence and license that also describes our contemporary social conundrum where the acceptance of capitalist privilege (and the digital-media revolution) has left human beings detached, isolated and morally at odds.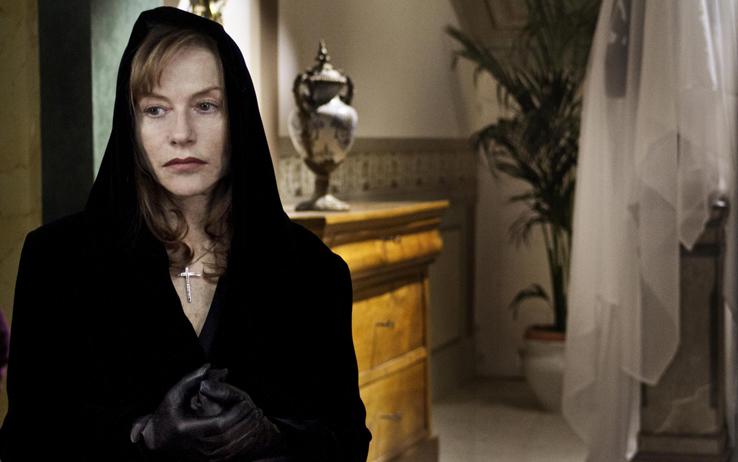 In Criterion's new Blu-Ray transfer of La Notte, this tragic condition is made timeless and almost metaphysically observable. Antonioni's geometrical black and white imagery (shot by Gianni diVenanzo, the supreme cinematographer of the 60s) audaciously emphasizes the black but without being dark. It is always luminous, lacquered. When novelist Marcello Mastroianni and his wife Jeanne Moreau attend an all-night party, they and the guests can be contemplated as figures going through emotional struggle in a palpably existential landscape (the b&w schema makes night rain fall like diamonds in the sky). Looking at it is thrilling, intellectually elating. There's silk and patent leather, crystal and onyx, luster and depth.
The luxe on view represents an emotional condition, the individual character in relation to their world: sex, death, work and money–matters that test their confidence, their lack of faith. Wealth measures status and that's all that matters. The novelist is told "Don't worry about the money…The important thing is to create something solid, something to be remembered" which predicts the obscenity of today's power elite. "It's hard to say what an intellectual might turn up his nose at," Marcello laments which also predicts today's nihilistic gatekeepers who have forsaken art that addresses mankind's soul to praise humanity's extinction. Antonioni makes this tragic realization scintillating.
That's why the best new movie of 2013 is also an Italian import, Marco Bellocchio's Dormant Beauty, a multi-levelled examination of how personal and political positions get confused during a highly publicized euthanasia case. (It shames the pikers Cuaron, McQueen, Lee Daniels, Richard Linklater, etc. who trendy critics are prematurely rushing to anoint.) Without taking sides, Bellocchio reveals varied responses to death (Antonioni begins his film with the question, "How do I live?") throughout the levels of Italian society–from political high rollers to a suicidal street dweller, a female celebrity to psychologically challenging sibling rivals. Bellocchio demonstrates the political-humanist depth that is the hallmark of post-WWII Italian cinema (as well as the American zenith of Altman's human panoply). The style is sociological and romantic, tragic and subtly satirical (Isabelle Huppert's narcissistic mother of a comatose invalid is a layered comic performance such as only great directors can extract from her.)
Dormant Beauty shows at Lincoln Plaza Cinema Nov. 15-21, concluding its "8 Decades of Italian Cinema" program–the last relay in a series of New York screenings that qualifies it for this year's film awards from critics brave enough to resist Hollywood's high-pressure hype. Bellocchio's analysis of Italy's sleeping morality complements his expose of political mass hysteria in 2011's magnificent Vincere. Bellocchio's insight dovetails with Antonioni's prophecy. Don't miss it.
Pathetically, The Great Beauty by Paolo Sorrentino is totally missable. It's an ignorant summary of Italian cinema's personal politics, imitating Antonioni, Ettore Scola, Bertolucci, the resurgent Bellocchio, Federico Fellini, et al, but in ways that misinterpret them. Fellini originally titled his summa 8 1/2 as "The Great Confusion" and that is all Sorrentino has achieved. His tale of a novelist facing writer's block (same as Mastroianni in La Notte) stars Toni Servillo (the politican-patriarch of Dormant Beauty) but it turns existential despair into privileged whining. This may be true of 21st century elites but its less respectable–less interesting–that the shame that Antonioni perceived. The Great Beauty is self-congratulatory in the smug, hipster vein of American indies and festival-circuit faves. Plus, video-slick Sorrentino is nowhere near the esthetic mastery of Fellini, Antonioni, Rosi, Bertolucci or Altman (whose 1994 social summary Pret a Porter is also invoked).
In La Notte, Moreau laments "You don't know how it feels when the years weigh on you" which is essentially Servillo's complaint (made to Sabrina Ferrili in the liveliest characterization as an archetype of a new lost generation) but Sorrentino miscalculates that Servillo's clown-like visage and supercilious sneer are empathic. Here he's a boar, unlike his deep despair in Bellocchio's film. Sorrentino's middle-aged hero confesses "At 26, I fell into the whirlpool of the high life, I wanted to be king of the high life" a more trenchant admission than we'd get from, say, Anderson Cooper, Jonathan Franzen, Frank Rich or Steven Soderbergh, yet it lacks Marcello's soulful-comic confusion (in either 8 1/2 or La Notte). Sorentino's first problem is that we can't pretend already knowing Fellini and Antonioni's depth.
Ten minutes into Sorrentino's "decadent" montages (partiers, groupies, tourists, Rome in EDM flames), a cinephile must ask himself "Had enough La Dolce Vita yet?" From there, The Great Beauty is sunk; a "masterpiece" for the willfully naïve. Nothing in this blank display of "pseudo-decadence" matches the powerful ending of La Notte where Mastroianni and Moreau hump each other in a ditch, the end point of mankind seeking oblivion through sex–like zombies. Today's pop audience readily recognizes and romanticizes itself–and its existential condition–as zombies. Sorrentino is behind the curve. Thank God that La Notte and Dormant Beauty exist to insist that humanity and cinema art are alive and powerful.
Follow Armond White on Twitter at 3xchair