By Armond White
The New York Film Festival's presentation of Blue is the Warmest Color repeats the Cannes slate along with such repulsive Festival-circuit fare like Jia Zhangke's odious A Touch of Sin. Now we know what Spielberg, Hollywood director par excellence, was up against.
Here's how I suss out Kechiche's lousy, overlong, Festival circuit alternative to The Color Purple winning Cannes' Palm d'Or from President Spielberg's Jury:
Spielberg–too powerful to seem a spoilsport so he gives in the women on the Jury (and also pointedly ignores the Coen brothers. He's not a hipster and he knows it, this is a safe way out.)
Ang Lee–pathetically middle-brow and will defer to Spielberg having just beat him of a Best Director Oscar.
Nicole Kidman–maybe the most thoughtful person the jury but an "actress" therefore susceptible to sentimentality, especially involving the subject of female sexual prerogative.
Christoph Waltz–desperate Eurotrash, a Tarantino-bot who wouldn't know a good film if it gave him a golden shower.
Daniel Auteuil–superb actor but pussy-whipped, dumped by Emanuelle Beart and prejudiced in favor of liberal French filmmakers like Abdelletif Kechiche.
Cristian Mungiu–a p.c. Romanian who probably thought the 3-hour film wasn't long enough but made enough obvious points except for leaving out an abortion.
Lynne Ramsey–a Brit pseud who recently directed the Tilda Swinton mom-of-serial-killer movie and always goes for anything  remotely "feminist" and p.c.
 
The other two jury members I don't know but my experience on festival juries says that there were probably hold-outs who did not agree with the winning choices, so why not these two? Still, a jury president holds sway and Spielberg simply gave in. (To quote Joe Pecsi in Raging Bull: "If you win you win, if you lose you still win." It didn't matter what film Spielberg chose, but he made sure that the winner would make him look good.)
Thanks to The New York Film Festival Cannes II programming, local moviegoers experience the folly of Spielberg in the whorehouse of art at Cannes. He must have schvitzed.
***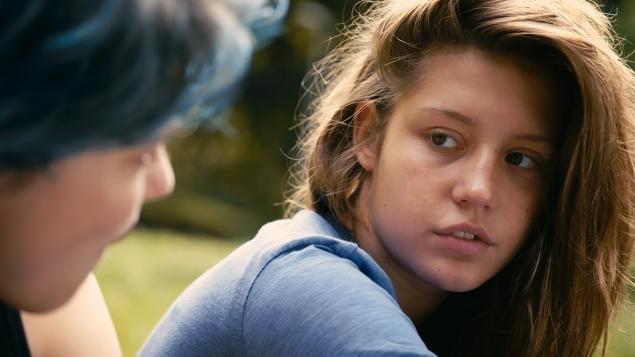 Blue is the Warmest Color is distinguished by being the Palm d'Or winner at the Cannes Film Festival when Steven Spielberg was President of the Jury. It was a shocking choice only because the film has such dubious meaning–and not due to its supposedly "shocking" lesbian sex scenes. Such "explicitness" couldn't have fazed Spielberg who dared Hollywood's pioneering lesbian content in 1985's The Color Purple–a film that has yet to get its due from critics but has become a staple for Black academics and proved globally popular; note its frequent TV showings, even on the hipster station Sundance Channel. (The Cannes festival began with a tribute to Spielberg featuring a live performance of The Color Purple's blues theme "Sister," a song that transcended sexuality with a sympathetic expression of female solidarity).
Given Spielberg's humanist sophistication, the Jury's choice of Blue is the Warmest Color is puzzling; it reverses the progress of The Color Purple with a meandering focus on sexual license. Director Abdellatif Kechiche's story of a Parisian high school girl Adele (Adele Exarchopoulos) who succumbs to the butch charms of blue-haired art student Emma (Lea Seydoux), then loses all sense of herself, is neither pro-humanist nor pro-gay. Kechiche, adapting a graphic novel by out-lesbian Julie Maroh, emphasizes the physical aspects of romance–sexual attraction, sexual coupling–that makes the stability of gay romance, and Adele's sanity, questionable. In The Color Purple, Spielberg's adaptation of Alice Walker's novel featured a mature understanding of the need for love between women as well as between opposite genders. Kechiche's sophomoric view of sexual awakening suits our contemporary, self-congratulatory politics every bit as much as the pandering in Spielberg and Tony Kushner's Lincoln.
The Color Purple's Hollywood discretion (and pop universality) may not have pleased 1985 status-keepers who preferred Out of Africa or the radical-lesbian hipsters at the once-relevant Village Voice (then on its last legs), but Spielberg and screenwriter Menno Mayjes wonderfully recognized the humane essence of Celie (Whoopi Goldberg) discovering herself through an attraction to blues singer Shug Avery (Margaret Avery portraying a Bessie Smith archetype). Their relationship, based in Black folk culture, was less about sex than the larger issue of emotional fulfillment–personal wholeness and spiritual salvation. Kechiche, a politically-correct operator whose monotonous Secrets of the Grain exploited Muslim immigrancy, uses gayness to support dubious ideas about romance and identity. His long, obvious concentration on female sexuality doesn't celebrate womanhood but exploits it in that grayish-blue area of gynophilia (heterosexual men's excitement at watching women copulate–and teenage Adele's shaved pudenda).
Really, what is there to learn from watching Adele and Emma bumping-and-grinding? Or repetitive close-ups of Exarchopoulos's wet, open mouth (obvious hairless vaginal symbolism)? Not even Brigitte Bardot, France's sexual trailblazer, could survive such exhausting orthodontic scrutiny. And Exarchopoulos isn't the actress Bardot was; she drifts through Kechiche's "realism," rejecting one gorgeous guy after another (Salim Kechiouche and Jeremie Laheurte), even giving up her intellectual interest in literature to implausibly become a hausfrau to please her social-climbing woman. (Seydoux's tomboy manner as a woman who puts her career before her personal life recalls Rainer Werner Fassbinder's trollish look.)
Throughout Blue is the Warmest Color one's most interesting thought concerns Spielberg's approval of Kechiche's obvious p.c. toadying. It's not like lesbians are radical protagonists these days. In Robert Towne's 1982 Personal Best, female sex scenes were emotionally intimate yet without all the huffing, puffing and bumping uglies. Director John Huston once suggested certain private acts should never be shown which Kechiche confirms with the silly pointlessness of Adele and Emma's extended exertions. As with the belly dancing in Secrets of the Grain, Kechiche doesn't know when enough is enough.
The Festival circuit is notoriously gullible and 2013 moviegoers may never have seen stuff like this, not even Radley Metzger's Therese and Isabelle or Jake Deckard's Men in the Sand) but at best they'll be shocked, not enlightened, bored not edified. Instead, Kechiche moralizes: an old man in a gay bar advising "Love has no gender. Take whoever loves you," then equates Bob Marley and Jean-Paul Sartre on commitment and the mysterious weakness of a man's face. All this is as unprofound as Woody Allen's self-justifying "The heart wants what it wants"–a way to avoid examining the depths of human interaction. Kechiche gets no credit for a gay sex breakthrough; anyone who has followed the cultural progress of gay filmmakers are already ahead of this film through the dazzling experiences of Andre Techine's Wild Reeds and Les Voleurs, Alex Sichel's All Over Me, Gael Morel's Full Speed, Duscatel-Martineau's My Life on Ice and Lionel Baier's Garcon Stupide–for starters. Otherwise we're back to the ignorance of thinking Brokeback Mountain was an innovation.
Kechiche emulates the realism of Maurice Pialat and Mike Leigh then ruins it with dubious insight: "Tragedy is inevitable, that's the essence of human life." Spielberg the humanist should have known better than to fall for such fashionable humbug. Adele saying "I'm vociferous. She taught me to eat oysters. It has to be alive," addresses such obvious clitoris symbolism that all moviegoers, lesbian or not, Spielberg or not, should be embarrassed.
Follow Armond White on Twitter at 3xchair