By Armond White
Westerns used to be called "shoot 'em ups"–affectionately by moviegoers and industry insiders who enjoyed the genre's familiar characters and routines, content that its visceral exercise would satisfy their common anxieties. Those anxieties are denied by today's CGI, comic book-based spectacles based in juvenile naivete–and juvenile cynicism–that simplify our storytelling needs into commercial reflexes, not answering political and personal questions but merely confirming our spiritually alienated status as consumers.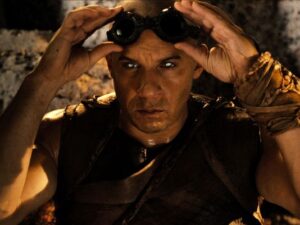 The result has been vicious, ignorant dismissal of the best recent action films like Zack Snyder's rousing Man of Steel and Walter Hill's superb Bullet to the Head and Michael Bay's great Pain & Gain. This new fanboy cynicism expresses false erudition–as shown by the inordinate trouncing of Getaway, the Ethan Hawke chase-movie and bland responses to Riddick, Van Diesel's return to his Pitch Dark franchise.
These are not good films but the beat 'em up responses are lazy and insensitive. The problem with both these movies is their unimaginative formula and disappointing craft. Action-movie fans shouldn't ignore the skill and ingenuity that make their enjoyment possible, that earns their affection. Instead, a simple-minded Ebert-style attack on the genre's conventions misunderstands what's fundamentally wrong with each film. Instead of aesthetes, Ebertian fanboys and reviewers become that breed of filmwatcher Hitchcock most despised, contemptuously referring to them as "The Plausibles" for their piddling over-emphasis on "believability," "logic," "realism."
In Riddick, talented writer-director David Twohy earns affectionate scolding for burying his usual moral conflicts in the franchise's convoluted backstory, using drawn-out clichés that do dilute the impact of Riddick's isolation on a hostile planet and his transformation from misunderstood outlaw to a principled rebel. Diesel himself lacks conviction this time; there's routine desperation to remind audiences how Pitch Black (like the classical The Chronicles of Riddick) revived genre tropes. Diesel/Riddick's opening line ("Don't know how many times I've been crossed off the list and left for dead") confesses career resentment without the fascinating personal compulsion of similar genre works like Tom Cruise's Oblivion and Will Smith's After Earth, both deliberately misunderstood and unfairly disrespected visions of Hollywood as a vacuous, antagonistic Other World.
The fanboy beat down of Getaway is especially ignorant. Its standard storyline (Taken plus Drive plus Speed plus Vehicle 9, et al) isn't the problem; the matter is director Courtney Solomon's technique, Getaway is designed as a big-screen videogame–it doesn't fail today's target audience but flatters it too well. Solomon's X-Box aesthetics ruin the primal pleasure of cinematic speed and montage which eventually damages enjoyment of Hawke and Selena Gomez's unexpectedly effective father-daughter dynamic. A casualty of new digital editing technology, Getaway might have been better had it been designed and constructed on a Steenbeck, forcing filmmaker and moviegoers to think about images and montage.
Both Riddick and Getaway, are essentially westerns–a basic genre popular for clearly drawn, timely issues. Despite the futuristic sci-fi setting, Diesel essentializes in Riddick, resorting to personal, urban lingo: "Yet again someone was trying to play me." Such audience rapport made a pop success of Fast & Furious yet somehow Riddick neglects taking it higher into a realization of the frustrations that caused Diesel to name his production company One Race Films. When reviewers and fanboys can't see the signs and beat-up the intent, they disparage the genre and play themselves.
Follow Armond White on Twitter at 3xchair