By Armond White
"Bluebloods!" Simon Pegg and Nick Frost shout, standing beneath the bright light of realization in The World's End. At the climax of their pub crawl over "the Golden Mile" of their hometown Newton Haven, these British lads Gary King (Pegg) and Andy (Frost) retrace their youth along with three other middle-aged mates, Steven (Paddy Considine), Oliver (Martin Freeman) and Peter (Eddie Marsan). Their class sensitivity shows them the truth of mankind's future.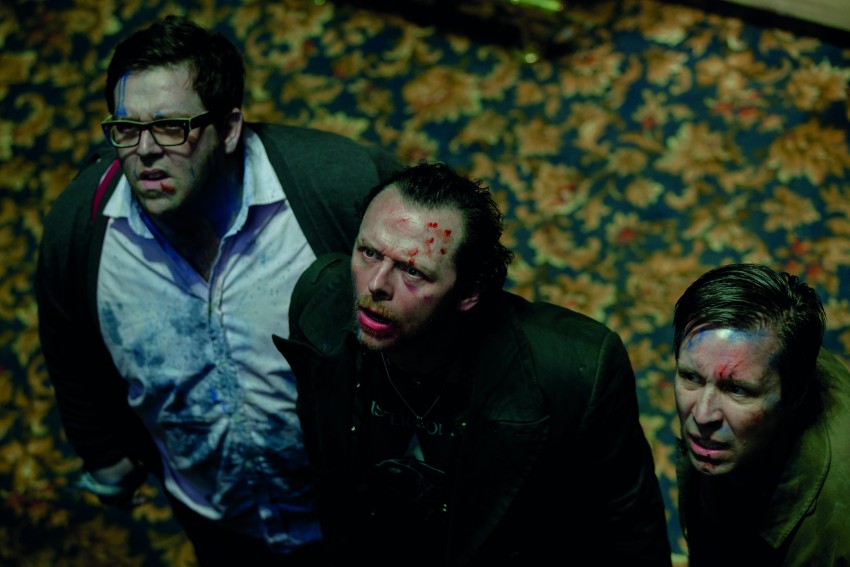 Satirizing their own immaturity, these once self-proclaimed "Five Musketeers" confront their hard-drinking, club-hopping youth and their adult fears and regrets. At the final stop on their pub crawl, The World's End tavern, these funny, anguished Englishmen come back to the inescapable issue of class.
This awareness is what differentiates Pegg-Frost's, and their collaborator-director Edgar Wright's, humor from American satirist Quentin Tarantino. They all deal with genre tropes but while Tarantino is only interested in compiling adolescent movie references, the Brits can't help but deal with weighty social subtexts.
Wright-Pegg-Frost's previous film Hot Fuzz parodied cop-buddy flicks yet found gravitas–and deep laughs–by spoofing British manners. (American critics ignored that, focusing on "entertainment.") The point of The World's End isn't escape from suburban boredom but examining how it affected the lads' personalities as restless teens drinking along with 90s pop music and now as bored, dissatisfied men who gradually understand the authoritarian nature of their society's traditions–even in a pub crawl.
A press screening note from Wright requests reviewers don't "reveal some of the surprises, twists and actors that do not feature in the trailers. Forgive me for asking, as I know you would never dream of doing such a dastardly thing." So out of respect for that brilliant joker who made Scott Pilgrim vs. the World, I'll only mention that here Edgar spoofs sci-fi/horror films like Invasion of the Body Snatchers, Quartermass and the Pit, Children of the Damned along with the nostalgic pleasure of 90s British pop from Happy Mondays and Suede to The Housemartins and The Sisters of Mercy.
It all comes together, unlike a Tarantino jamboree, as a summation of cultural experience–a pop awakening to the nature of hegemony: Bluebloods! Class!
Brits are always shocked at the class system they indulge yet can never escape and this compulsion drives Wright-Pegg-Frost toward action-movie satire richer than most. (They're heirs to such Ealing comedies as The Man in the White Suit and The Happiest Days of Your Life–heads up for those who think The World's End is unlike anything ever done before.) Pegg's characterization of the alcoholic Gary King, drowning his self-destructive, unshakeable rebellion (he sees the end of the world in his own self-loathing), would be Oscar-worthy in a different context and his co-stars are on his level.
Wright's complex, old-friends badinage recalls dramas as serious as Chayefsky's The Bachelor Party and Cassavetes' Husbands as well as Tom Hanks' antic 80s Bachelor Party and the classic friendship movie-musical It's Always Fair Weather. Not a frivolous Tarantino genre mash-up, this reflects how, at the end of the postmodern world, pop cultural experience has turned into genuinely frightening liberal conformity. The Five Musketeers–and Wright, their eschatological sixth member–encounter a "Network" that replaces people of influence and takes over institutions to "change the way we think, make us more like them." Look around, it's the year's most succinct statement on our media age.
From slapstick fight-staging to timing an old flame's reappearance to the break in Saint Etienne's "Join Our Club," Wright shows vigorous panache–superior to This Is the End, the Hollywood-doofus apocalypse comedy that anxiously avoided issues of faith and self-examination. Wright polishes Hot Fuzz and these characters cut deeper, still The World's End seems like a sequel rather than a revelation. Its familiar themes felt newer in Attack the Block where immigrant youth's clash with British tradition (and extraterrestrial dopplegangers) transcended genre satire. So did Scott Pilgrim vs. the World, so did Pegg and Frost's genial solo outing, Paul. This ending isn't bleak like Tarantino, it's just shambolic. The sixth Eschateer, indubitably talented Edgar Wright, isn't simply eschatological; he's ready to move forward.
Follow Armond White on Twitter at 3xchair