By Armond White
As I sat down at the AMC Empire Cinemas in Times Square for that evening's all-media screening, I could smell a dead rat–and then The Wolverine confirmed it. It wasn't the first time that an all-media screening took place in that filthy, Crossroads-of-Consumerism flea pit (very recently a woman stood up at an AMC Empire screening and screamed that a rodent had jumped into the seat next to her). Such are the conditions forced upon reviewers as they're herded into what the media enthusiastically refers to as "summer blockbusters" like The Wolverine.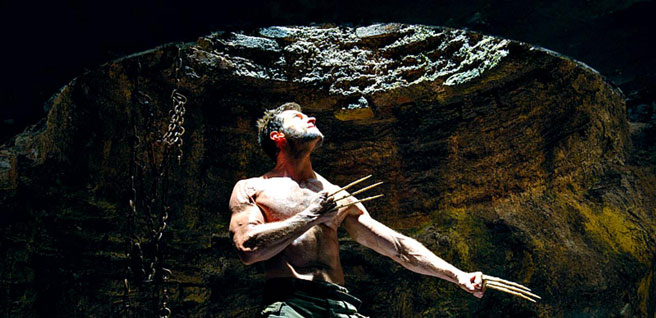 It has become standard practice to subject reviewers and non-professional bloggers alike to the same nighttime screening schedule as public consumers. Publicists originally justified this practice as establishing the proper atmosphere for enjoying audience-friendly genres (comedies and action films) as if a critic could not laugh or be thrilled without a mob's encouragement. Thanks to the Internet, the mob now includes the burgeoning ranks of media shills who think of cinema as a leisure time habit rather than a professional endeavor.
That self-justified publicist's "reasoning" is disrespectful to professional reviewers yet the rationale has become self-fulfilling: One must be intimidated into feeling thrilled at a movie as mediocre as The Wolverine, another Marvel Comics spin-off. The stench of rotting vermin, garbage, or an unwelcome visit by a scuttling critter is a new kind of 3D FX, more powerful than anything that occurs in James Mangold's uninspired staging.
Mangold (Knight and Day, 3:10 to Yuma) is a studio hack, guaranteed not to challenge or innovate any costly production and just bring it in on schedule and on budget. He approaches this comic-book franchise film like it was a James Bond assignment: In The Wolverine, Logan/Wolverine (Hugh Jackman)–the immortal superhero with adamantium blades growing from his knuckles–is drawn out of self-imposed exile to the present day where he reunites with a man (Hiroyuki Sanada) whose life he saved in WWII. It feels like the umpteenth entry in an indistinguishable chain.
The series of violent set pieces in a northwest hunter's bar, a Tokyo lair, atop a train, in a futuristic lab with a venomous Viper Woman or with various yakuza and ninjas, is like a tourist's checklist of the usual action-movie-blockbuster locales. (Oddest scene has Wolverine strung like a marionette to wires shot by ninja-archers.) Even yeoman Jackman does his mutton-chop fretting and body-builder calisthenics with a tour guide's dutifulness. Wolverine's visions of his late wife (Famka Jenssen) suggests the death wish and existential anguish of a totally different kind of movie—just as his Oriental flirtations with two Japanese women (magenta-haired ninja-girl Tao Okamoto, willowy geisha-girl Rila Fukushima) recalls Kick-Ass mixed with 007's You Only Live Twice. Mangold should have retitled this hodge-podge Pacific Rimming.
Summer blockbusters this formulaic and forgettable offer a decomposition and deconstruction of film industry thinking. It's why adults opt out of going to see more of the same and only kids and fanboys think these Marvel flicks have anything to do with myth, culture or pleasure. The whole situation (from disgusting theatrical venues to boring narratives) is a Hollywood disease. Finally, film exhibition (at least at the AMC Empire) sinks to the level of the movies–and it stinks.
Follow Armond White on Twitter at 3xchair