By Armond White
Hard luck Lindsay Lohan couldn't have made a worse movie than The Canyons had she directed it herself. As the film's producer, she made the poor decision to hire Paul Schrader as director, putting herself in the hands of a filmmaker who reduces her to a T&A show. Schrader appears to know less than Lohan about dissipated living–if one goes by Schrader's low-life trilogy Hard Core, his pseudo-porno-snuff film; Auto-Focus, his pervy Bob Crane biography; and The Walker, about an escort who caters to fag-hags. Throw in the totally factitious American Gigolo, which couldn't settle on whether its protagonist was gay or straight, a prostitute or a saint, and you have an unimpeachable case against the fatuous Schrader. He's incapable of translating Lohan's moral, sexual and professional confusion.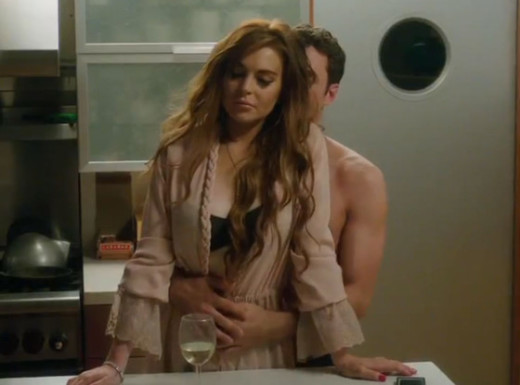 The script for The Canyons was purchased from Bret Easton Ellis who misplaces the clear-eyed cultural scrutiny in his brilliant evisceration of GLAAD, the hypocritical, celebrity-chasing Gay and Lesbian Alliance Against Defamation organization. Ellis seems intent on imitating MTV's groundbreaking scripted-reality show The Hills by depicting its opposite: low-life characters on the fringes of the film industry. The Hills was about spoiled kids seeking their jollies but Ellis moralizes about depressive, rich, native brat Christian (James Deen) mixing with desperate wannabes Tara (Lohan) and Ryan (hunky Nolan Gerard Funk); they play sex games and mind-fucks while working together on an indie slasher movie, Ellis rehashes his American Psycho mode, turning this "expose" into a thriller–another genre at which Schrader shows no aptitude (Remember when Pauline Kael wrote Schrader "doesn't know how to turn a trick"?).
It's difficult to tolerate characters who re-say such banal dialog as "Don't go there" and "He's a douche bag" especially when the images say nothing. The opening scenes where Schrader once again practices his Ozu-Bresson deadpan seem utterly amateurish. Poor Lindsay looks lost as a freckled ingénue (her skin seems abashed) way past her prime and looking twice her age. Tara's Ann-Margret-style sluttiness should resonate the classic traps befalling Hollywood fame-seekers, but an element of masochism shows in Lohan's depressed, self-loathing characterization. At heart, Tara is a girl who never has fun which fits all too well with Schrader's own dark, drab moralizing. He and Ellis betray Lohan by shifting the film's emphasis to the villainous Christian (!).
Casting porn celeb James Deen so mystifies Schrader and Ellis they lose track of Tara's dilemma in favor of speculating on Christian and Ryan's sexual exploitation. They confuse Deen's facial resemblance to dilettante-actor James Franco with depth. Surely Franco would have brought freaky intensity to the role, perhaps raising the stakes as he did in This Is The End, maybe even challenging Lohan. But smirky, petulant Deen is not schlong on talent.
Didn't Steven Soderbergh already try this porn-star trick with Sasha Grey in The Girlfriend Experience? When Christian consults a shrink played by Gus Van Sant y'all, that hipster director's presence only revives old Michael Pitt boy-toy rumors. But in the American Idol-E! Entertainment-VH-1 age, the casting couch is not shocking or new. It insults Lohan to sentimentalize her own downfall as if bad judgment and misfortune disprove her talent. Robert Altman did not pity Lohan as the quirky goth-teen in A Prairie Home Companion but Schrader and Ellis do; pigeon-holing Lohan as a loser negates her artistic potential. (Asked if she really likes movies, Lohan/Tara replies "I guess it's not my thing anymore.")
Schrader and Ellis also have the gall to introduce each scene in The Canyons with a photograph of various dilapidated movie theaters as if charting an ineffable socioeconomic condition. Let's be real: The undeniable decline of movie culture today is inseparable from their own decadent, desiccated filmmaking.
Follow Armond White on Twitter at 3xchair