By Armond White
That Kanye West's outdoors projection New Slaves was the most exciting cinematic event of the first half of 2013 sets a high standard. But it's been an exceptionally fine movie year so far which makes the mid-year reckoning full of excellence, an interconnected story of good cinema for those who can see cinema.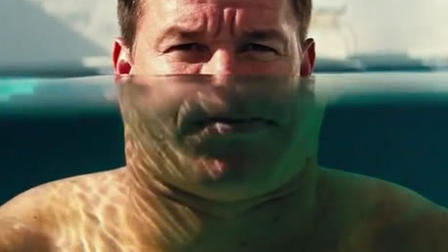 Marco Bellocchio's Dormant Beauty began a series of performances first at "Film Comment Presents" then at the "Open Roads" festival (both through the Film Society of Lincoln Center). As much a look at our new social paradigms as West's projection, Bellocchio's masterpiece will return this fall at Lincoln Plaza Cinema's "8 Decades of Italian Cinema" program. It should ensure top prize eligibility for this extraordinary, compassionate view of national/personal politics.
Michael Bay's funny, penetrating true-crime saga Pain & Gain is an instant-classic satire of domestic morality; it is simultaneously mind- and eye-candy. Both comedy and confessional, Michel Gondry's The Me and the I perceives the universal and the eternal in youth experience, maybe the best example of New York surrealism ever.
More than a sequel, Eytan Fox's Yossi probed an established character's (Ohad Knoller) spiritual journey in a Death in Venice tribute that chooses life. Zack Snyder's visionary Man of Steel similarly chooses life and epic grandeur, giving the superhero genre unexpected emotional depth.Walter Hill's Bullet to the Head revives the action genre as an amazing study of masculine morality. Brian Helgeland's 42 found men of courage in the twin story of baseball legends Jackie Robinson and Branch Rickey revolutionizing American culture.
Cinematic high art is rarely as luxurious and challenging as Alain Resnais' You Ain't Seen Nothin Yet, an unbounded exploration of art, myth and mortality. Neil Jordan's Byzantium also dealt with myth, finding adult seriousness and sensuality in the vampire movie. Outre feminism reappears in P.J. Hogan's Mental, a musical starring Toni Collette as the impish spirit of women's liberation.
In Hors Satan, Bruno Dumont dealt with emotional apocalypse in the French countryside through the mystery of alienated folk contemplating morality. That view was seconded by Ginger and Rosa where Sally Potter recalls the confusion of morality and politics for two youths at the birth of late 20th century radicalism. Paolo and Vittorio Taviani examine the ageless conflicts of politics and morality with Caesar Must Die, the bold experiment of staging Shakespeare in prison–basically asking the question: How Does Art Matter?
Some minor films answered that question to varying degrees of excellence and satisfaction: Almodovar's I'm So Excited, Malick's To the Wonder, Kon Tiki, The Pirogue, Jonathan Levine's Warm Bodies, Francois Ozon's In the House, Vehicle 19, Roman Coppola's A Glimpse Inside the Mind of Charles Swan III, Hannah Arendt, Fast & Furious 6, Museum Hours, Something in the Air, London: The Modern Babylon and Upstream: Color. That's practically a roll-call of lively movie practice. Give this Mid-Year checklist to anyone who asks if there are any good movies.
Follow Armond White on Twitter at 3xchair