By Armond White
As a teenager discovering the pleasures of widescreen Hollywood spectaculars, MacKenna's Gold (1969) has always been a thrill. It is still is (showing on TCM right now). J. Lee Thompson, the underrated action director who made fascinating late-era Charles Bronson vehicles (like the remarkable The White Buffalo), repeats the ambitious odyssey style of his biggest hit The Guns of Navarone, this time in a Western epic about a search for Apache gold in a hidden valley. Carl Foreman's good script provides an analysis of human greed in its various forms (Marshal Gregory Peck, Mexican bandit Omar Sharif, Army officer Telly Savalas, a bunch of settlers and townfolk and Julie Newman and Ted Cassidy especially expressive as a pair of mute Indians). Veteran Foreman's mastery of traditional narrative includes sophisticated awareness its formal properties–a voice-over narration guides viewers through the familiar turns and conflicts, making them satisfying in ways few movies would ever be again.

Seen today, MacKenna's Gold seems a forerunner to the kind of serial adventures Spielberg paid homage to in the Indiana Jones series but Thompson and Foreman uncannily also anticipate Spielberg's playfuness, including amystical side in the stunning desert climax where Apache legend is authenticated in a scenic, special-effects extravaganza that turns Monument Valley into an otherworldly confirmation of anthropological myth: starting with a light show ("It must be a quartz deposit!" cries Peck), a rock tower's shadow that moves like a finger pointing across the earth, an avalanche/earthquake ignited by everyone's stampeding greed, plus a superimposition of anold Indian chief giving benediction.
In 1969 the trendy stylization of Butch Cassidy and the Sundance Kid was not nearly as much fun as MacKenna's Gold. Fact is, Butch Cassidy's cynical, try-anything style was a false style. Thompson and Foreman kept true storytelling values even in the gold rush sequence itself is a marvel of color coordination and modernist, freeze-frame depiction of gold fever–an audacious ploy that quotes Chris Marker's La Jetee.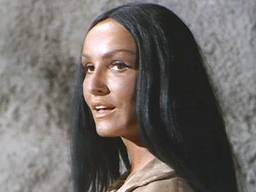 TCM's letterboxed broadcast was sharp and vivid, no doubt from the films original 70mm print. Technically superb, MacKenna's Gold's pleasures include Quincy Jones' best non-Quincyish socre and a theme song by Jose Feliciano ("Gold, Gold, Gold/ They'll do anything for Gold, Gold, Gold/ Gotta find MacKenna's Gold!" In pop terms, the "Light My Fire" artist's passion was worthy of Zane Grey or Mark Twain.) It's fun storytelling in a tradition that was taking its last bow. Ah, youth! Ah, Hollywood!