By Armond White
One story isn't enough for Neil Jordan. Byzantium is full of twists and turns, memories and revelations that zigzag through the tortured history of men, women, birth, death, sexuality as well as the history of Irish and English literature and Catholic guilt.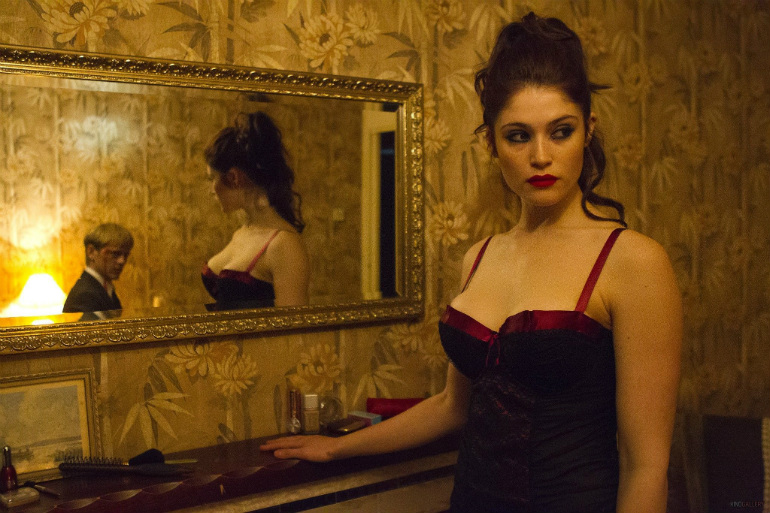 Two female vampires, teenage Eleanor (Saoirse Ronan) and adult Clara (Gemma Arterton), stalk an English seaside town pursued by shadowy men yet lustily targeting men themselves. As Eleanor narrates their ageless story (of how they came to be vampires), she also writes it out: "Once upon a time, I was born." She keeps rewriting her story the way neurotics repeat their emotional injury–the same reason killer Clare seeks revenge. This regenerating biographical-fiction impulse also propels Jordan (best known for The Crying Game), one of the few adept filmmakers who is also an accomplished literary artist. Byzantium is Jordan's most elaborate conceit but he's more than a formalist.
Start with Eleanor's claim: "It is still a fact that the day you are born is the day you are likely to be murdered. More human souls are killed by mothers' hands than by the hands of strangers. My mother tried to murder me but love confounded her." I'll declare the meaning of that poignant observation later but first will point to its disquieting elaboration on a trashy, trivial genre. It happens through Jordan's personal, expressive filmmaking and two emotive performances:
Ronan's Eleanor, a bright-eyed yet sorrowful waif, seems a figure from fairytale stressed by modern life; with hair pulled back from her forehead she recalls young Vanessa Redgrave's fierce alertness. But Arterton's Clara seems a figure from porn fantasies, fleshy and avid as a lewd Catherine Zeta-Jones. Both suffer the man/woman burden and its inevitable emotional and biological consequences. When Arterton runs or flirts, her physicality ("She's morbidly sexy" rues the owner of a strip club) makes her the most strongly erotic British actress since Glenda Jackson,yet there hasn't been a female performance this scintillating since Rebecca Romijn in Brian DePalma's Femme Fatale. Together, they give Byzantium innocence and palpable sensuality–exactly what every vampire movie before this one has lacked.
Flashbacks to 1804 interweave with matching modern motifs. Eleanor and Clara move as through as corridors of memory. Jordan enfolds tales and myths masterfully, always deepening empathy for Eleanor and Clara's plight. He combines his usual philological interests with the complications of motherhood, the female condition of fertility and sacrifice and guilt.
Transforming Moira Buffini's stageplay A Vampire Story, Jordan also revisits themes from his 1985 The Company of Wolves, an adaptation of feminist novelist Angela Carter's The Bloody Chamber, a modernist retelling of Red Riding Hood (evoked when Eleanor puts up her hoodie). His storytelling sense has cinematic fluidity but also a connection to the power of legend that builds sequences of amazing mythological richness when Eleanor and Clara are seen in period, especially a mountain cave and waterfall that hold the secrets of their eternal bloody torment.
But Byzantium is not trendy, patronizing feminism. Jordan's fabulist approach contains religious and literary complexity. Eleanor and Clara's battle against an order of male vampires who exclude woman, forbidding them to create. It comments on the exclusionary paternalism of Catholic priesthood Jordan was raised on and simultaneously rips the perverted innuendo of Interview with a Vampire, Jordan's 1984 job of work. In fact Byzantium's correction of Interview with a Vampire recalls how his mentor John Boorman corrected the horrible The Exorcist with the humane, visionary anti-sequel The Heretic.
This conscientious restoration of storytelling ethics gives meaning to how we understand ourselves and the world through stories. ("It's like Edgar Allen Poe and Mary Shelley had gotten together in this strange little child," a writing professor describes Eleanor.) Jordan's style is sometimes overly showy but few contemporary filmmakers can achieve such narrative momentum, visual rhythm or sensuality. Throughout this tale of sucreants and women damaged by Byzantine social strictures, extraordinary sympathy surges for a crisis that few contemporary artists ever wholly comprehend: Abortion. This should be controversial but it also must be seen.
Jordan's sanguinary treatise is like nothing in the history of pop culture since Johnny Lydon (as Johnny Rotten) ranted "Fucking bloody mess!" in The Sex Pistols' stunning, revulsed track "Bodies." Just as Rotten dared to oppose the shibboleths of social progressivism, Jordan interprets Buffini and Carter's feminine sensitivities as primal, compassionate humanism. At a moment of generic climax Clara screams "My baby!" asserting conscientiousness and guilt where vampire mythos and motif, cheap excitement and threat of death, arouse female psychic instinct and biological impulse.
These Madonna and Child moments, mixed with Madonna/Whore complexity, mark Byzantium as the most moving, truly feminist proposition in modern cinema. Maybe only Catholic-bred ambivalence like Lydon and Jordan's can produce such powerful effects. It's terrible that so few contemporary artists have the courage to admit Jordan and Lydon's regret; political conformity (as in 4 Months, 3 Weeks, 2 Days) deprives us of full understanding. Note that Eleanor's love story with a doomed boy (Caleb Landry Jones) is not trite like the kiddie vampire flick Let the Right One In (or its lousy American remake Let Me In) but has sweet, pure sadness, just as Jordan's phantasmagoria recalls that unforgettable instance of a mother climbing a gate to reach her child through a snowfall in Bellocchio's Vincere and evokes the grief of DeSica's Two Women–and purges it at long last.
For Jordan, one story isn't enough to convey his literary-visionary awareness of how politics, historically, denies what is natural. That sub-theme has always given Jordan's films–even the most bookishly crafted–a compulsive, blood-deep obsession and flow as in Byzantium's mysterious waterfall symbolism, the film's final vision. With the exception of Boorman's The Heretic, no other horror film has climaxed this majestically. It outclasses Kubrick's stupid elevator nightmare in The Shining because Jordan's art illustrates primal human nature. That's how Byzantium transforms genre into something exciting.
Follow Armond White on Twitter at 3xchair