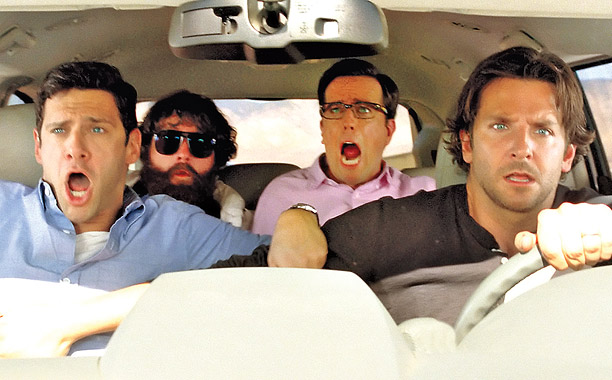 By Armond White
You might laugh at The Hangover Part III but you won't laugh as hard as Todd Phillips, the film's pecuniary director and co-screenwriter, who laffs all the way to his offshore Cayman Island account.
The Hangover Part III continues what's advertised as "The Wolfpack Trilogy"–kinda reminiscent of critics calling Gus Van Sant's most moribund films "The Death Trilogy" and it's a similarly self-indulgent series of decadent fantasies. These knockabout comedies follow a group of overgrown boy-men–the Wolfpack Phil (Bradley Cooper), Stu (Ed Helm), Doug (Justin Bartha) and Alan (Zach Galifianakis)–who go routinely wild in Las Vegas and then are forced to revisit their debauchery. The hit status of Phillips' trilogy represents little more than the envious wishful thinking of the non-Hollywood masses.
Phillips depends upon a collective hangover among wannabe Wolfpack ticket-buyers who are willing to accept that Part III ignores the series' premise. Granted Part II merely repeated Part I, but this film inconsistently skips over the lost-weekend concept and offers a nonsense relay of childish behavior, gross humor and outlandish situations. Alas, it's the best of the rotten trilogy.
The plot? What plot? Having already plumbed the market for mindlessness, Phillips knows that no storyline is necessary. He uses Alan, the doofus Galifianakis character, as a gimmick for desperate, inconsequential gags (what critic Kyle Smith identified as "trailer scenes") with no other purpose than to sell "boffo" moments. Wolfpack audiences don't need narrative consistency; it is the ultimate yahoo audience who only require that a movie confirm the bizarre antics promised in the advertising.
These mercenary reasons also explain Ken Jeong's character Chow, a trickster id and villain who embroils the Wolfback in his theft of $42 million in gold bullion that gangster John Goodman has stolen from a Mideast potentate. Money is at the forefront of Phillips' mind–not imagination or artistry. Phillips' own $6 million salary is the reason why he keeps the film from ever making sense. By avoiding the connection between Alan and Chow (who is deemed "Madness" incarnate), Phillips doesn't have to scrutinize the adolescent instincts that connect all the film's characters or question his own venality.
In unfunny scene after unfunny scene, Phillips can disguise his craven calculations as "comic craft." A Hollywood accountant could tick-off each story point: Giraffe decapitation = Phillips' new pool. Chow parachuting from a Las Vegas penthouse = Phillips' new Maybach. Phil shouting "What the Fuck!" in every situation = Phillips' new villa. Stu saying "That was intense!" after each catastrophe = Phillips' indoor screening room with reclining seats customized with Beats by Dre sound system. Melissa McCarthy doing a cameo as Alan's sleazy love interest = Phillips' new private jet. The over-the-top end-credits coda = tuition payments for Phillips' children.
You could probably do a similar accountant's ledger for each performer and better understand their motivation for making this junk. Or else you could pretend that the Wolfpack trilogy is just wonderful, harmless, mindless entertainment in the same tradition as the more artistic Three Stooges. Films schools may one day teach this stuff. (Warning: Some financial spoilers above. Perhaps.)
Follow Armond White on Twitter at 3xchair