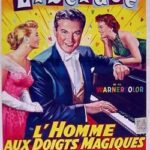 I thought it would be fun to watch Gordon Douglas' Liberace vehicle "Sincerely Yours" (1955) — just out from the Warner Archive Collection — back-to-back with Steven Soderberg's Liberace bio-pic "Beyond the Candelabra," which bows Sunday night on HBO after its world premiere Wednesday at the Cannes Film Festival.
What I couldn't have imagined is that Soderbergh's brilliant and sexually daring film — with amazing performances by Michael Douglas as Liberace and Matt Damon as Scott Thorson, his young lover from 1977 to 1982 — not only name-checks its strait-laced fictional predecessor (when Liberace is introduced as a performer the 1982 Academy Awards) but repeatedly references it and (to resort to film-critic jargon) actually comments on Gordon Douglas' weepie.
For starters, Anthony Warrin, Liberace's quasi-autobiographical character in "Sincerely" and Michael Douglas' Liberace both pay for surgery for younger males — in the latter case, it's plastic surgery to make Liberace's latest protege, Thorson, who he adopts as his son, look more like Liberace. In "Sincerely," when Liberace's pianist goes deaf, the recipient of his largesse is a crippled youngster who Warrin has been watching every afternoon through high-powered binoculars (!) after learning to read the lips of people he spies on from his Central Park West penthouse.
Read more: http://www.nypost.com/p/blogs/movies/dueling_liberaces_sincerely_yours_jWTEQuYMugD5eVLFfhF6zL#ixzz2U2rY0eTC