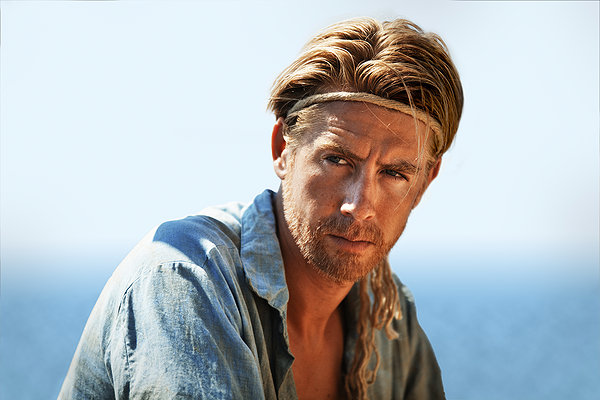 By Armond White
Unmistakably Pal Sverre Hagan's appearance in Kon-Tiki as Norwegian explorer Thor Heyedahl is modeled after Peter O'Toole's T.E. Lawrence in Lawrence of Arabia. Not just tall, blue-eyed with burnished blond hair, Hagan also conveys obsessive determination like O'Toole's Lawrence, making Heyerdahl's decision to build a balsa-wood raft and float from Peru to Polynesia more than a landmark in anthropology. It's also a foolhardy adventure verging on genius, displaying extraordinary courage which the directorial team Joachim Ronning and Espen Sandberg obviously admire.
Taking Lawrence of Arabia as a model, Ronning and Sandberg demonstrate a multileveled approach to Heyerdahl's famous voyage. They achieve the rare combination of historical replay, intelligent spectacle and sensible biography. Without the luxury of David Lean's epic length, Kon-Tiki conveys the breadth of Heyerdahl's 1947 daring as he challenges complacent scientists, gathers a group of risk-takers as crew and ventures from cramped civilization into the limitless physical world.
Ronning and Sandberg shape both the danger and monotony of Heyerdahl's mission to show the personalities of explorer and crew. The sub-theme of existential self-discovery starts with Heyerdahl's near-drowning in childhood which explains the irony that he never learned to swim. It's not a metaphysical study like Ang Lee's sentimental sea adventure The Life of Pi but a day-to-day demonstration of men testing themselves amongst themselves and against the elements.
Despite Kon-Tiki's grand subject it isn't grandiose. It recalls Lawrence of Arabia's simplest qualities: a close, fascinated look at a historical figure, recreation of post-war global temperament and awe at nature's majesty. These Scandanavian directors (previously known for the breezy feminist western Bandidas starring Salma Hayek and Penelope Cruz and produced by Luc Besson) chose a classical model in Lawrence, but they also honor their native heritage in an approach to environment that also recalls Jan Troell's atmospheric filmmaking.
Extraordinary sightings of luminous underwater creatures, whales swimming underneath the raft, sharks threatening the Kon-Tiki as it becomes waterlogged are marvelous and thrilling (colorfully shot by Geir Hartly Andeassen) but never trite or overblown. It's a perfect mix of CGI and nature–unlike Ang Lee's cartoonish extravagance which made The Life of Pi contradict its own spiritual premise.
Ronning and Sandberg's modernity requires them to query nature, fate, existence and they do so less subtly than David Lean whose pre-CGI respect for the infinite was part of his narrative richness. Kon-Tiki begins with Heyerdahl's mother saying of his childhood rescue "God had nothing to do with it!" The film's remaining narrative, though not exactly reverent, becomes ambivalent about Heyerdahl's ultimately discovery.
A night sequence panning from the raft, up to the heavens and back again, queries the viewer through visual awesomeness. Then Heyerdahl theorizes "Nature accepts us as part of itself like birds and fish." Not as eloquent as Lawrence of Arabia, Ronning and Sandberg fit the wonders they show to contemporary skepticism. At least they never reduce Heyerdahl to the explorer's cynicism of Werner Herzog's man-against-nature films.
Follow Armond White on Twitter at 3xchair