By Armond White
Sloppy storytelling has become so standard for American filmmakers (Side Effects, The Place Behind the Pines) that Francois Ozon's new trifle In the House feels especially pleasurable. Storytelling is its subject in the same sense as Todd Solondz's 2001 Storytelling. Ozon plays with his increasing filmmaking skill to illustrate the stirred imagination of a high school composition teacher Germain (Frabrice Luchini) who becomes obsessed with his most talented student Claude (Ernst Umhauer)who shows scary, enticing writing skill.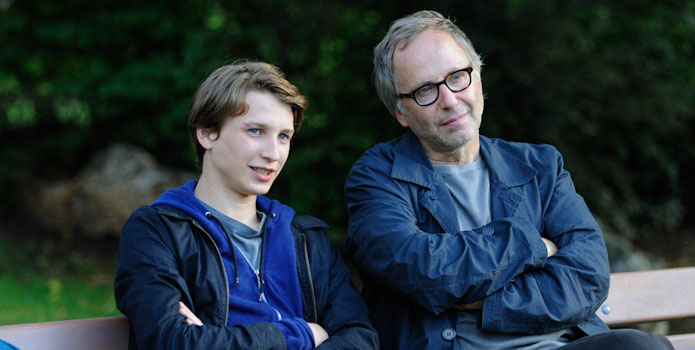 As Germain urges Claude to expand his gift for perception and language, the student's series of essays (another show of obsession about a fellow student) allows Ozon to play with the audience's perceptions. Claude befriends a not-bright classmate Rapha (Bastien Ughetto), coveting the homelife he envies and plotting ways to invade the classmate's home, seduce each of the parents and break up the family. This not only mirrors the teacher's arrogance but does so to the extent that it also critiques the teacher's sneaky intellectual selfishness.
Ozon's objective is classic Surrealism–exposing the cruelty of the bourgeoisie, especially as it is encouraged and taught at the Lycee Gustave Flaubert. Luchini is a perfect actor for this kind of revelation, his intellectual upheaval was well practiced in Eric Rohmer films, but Ozon avoids such gentility. In the House recalls Ozon's Fassbinder experiment Water Drops on Burning Rocks. This is also a theatrical adaptation (based on Juan Mayorga's 2006 play The Boy in the Last Row) conceived to be subversive. So while Claude seeks to undermine one bourgeois home, he also unravels Germain's marriage (to Kristen Scott-Thomas).
In the House recall early badboy Ozon, although he has lately approached mastery through such humanistic films as 5×2, Time to Leave, Ricky. This exercise recalls Old School Transgression. Glacially smooth, clever and fun to watch as In the House is, Ozon's expertise is constantly at war with a sense of smugness. Umhauer's Claude has a dark-eyed devious aspect like when Anderson Cooper smirks–so smugness is well judged. Ozon's mature work has shown genuine dissatisfaction with the self-satisfactions of gay cinema transgression and puts distance from it. This gives Claude's Omnisexual seductions–particularly with his classmate's feral father (Denis Menochet)–a particular erotic viciousness.
It's also a knowing viciousness. When teacher and wife go to the movies, they watch Woody Allen's despicably cruel, avaricious Match Point. The teacher's advice not to confuse desire with story holds for the failures of much would-be subversive cinema and Ozon must know it. Good thing he has great filmmaking-storytelling instincts. In the House ends with a tableau that recalls Hitchcock's Rear Window, but it is also, essentially, a Bunuel toy.
Follow Armond White on Twitter at 3xchair