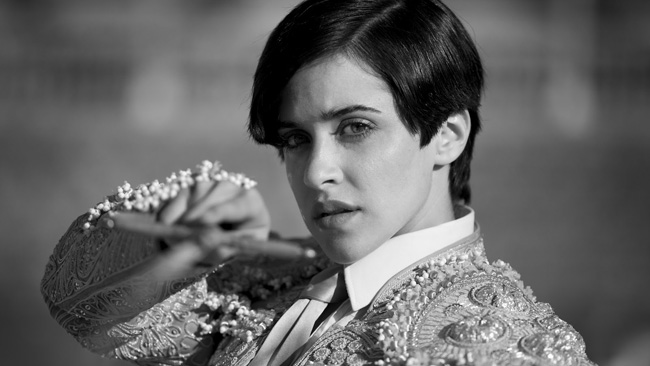 By Armond White
Blancanieves is the most hilariously misunderstood movie since people took Haneke's Amour to be a sweet love story. Is this peculiarity as simple as illiteracy or is it another case of cinematically illiterate critics who don't know how to read what they see on screen?
Spanish director Pablo Berger modernizes the Grimm Brothers' tale Snow White and the Seven Dwarfs as a feminist parable. It counters patriarchal custom by turning Show White into a female toreador who survives the murderous plotting of her evil stepmother, travels from corrida to corrida with a troupe of gay male dwarf clowns (including one tranny). Codes and transgressions are all over the screen yet reviewers have praised the film as a charming fairy tale and an innocuous parody of a silent movie like the inane French film The Artist of two years ago.
Although I recognize the wishfulness of those who prefer to see Blancanieves as an enlightened divertissement, I can't get past Berger's grim solemnity. He has an obsession with fatality: Blancanieve's father, a famous matador, paralyzed by a bull endures his wife's death from childbirth; Blancaneives witnesses her grandmother's grotesque Flamenco demise only to suffer her rapacious capitalist stepmother's abuse.
These are not Grimm facts of life but textbook radical feminist theory–from Snow White's sexual ambiguity and her rejection of social indoctrination to her violation of bullfighting's male tradition yet refusing to eat meat as confirmation of her asexual vegetarian diet. A male villain's phallic fountain pin slowly rises to ensare Snow White. These ideas are less covert than the quasi feminism of last year's Pixar movie Brave (which cartooned a more Grimm-like fear of Family and Matriarchy). It's not right-wing paranoia to recognize these films' political meanings but to deny them signifies real gullible ignorance.
Beguiled by the preteen Snow White's (Sofia Oria) pluck and cuteness and accepting adult Snow White's (Macarena Garcia) butch passivity, critics approve a new product rather than analyze what perversions are actually being sold. (This means indulging the least enchanting onscreen maturation since gorgeous teenage Jean Simmons turned into stuffy ladylike Valerie Hobson in David Lean's Great Expectations.) Even the formerly radical Village Voice review failed to appreciate Blancanieves' clumsy fanaticism.
Blancanieves cannot be appreciated on its own bizarre terms. Imagine a Snow White without a happy ending: This Snow White falls victim to patriarchy, the impotent gay dwarf who loves her embodies pity for what the old ways make impossible. When Berger can't figure out how to improve on the Grimms' original he simply debases it. His mangled version feminism dictates that the old Disney chestnut "Someday My Prince Will Come" won't be sung in a movie that's adverse to heterosexuality–not even as a joke.
A radical feminist desecration of Snow White without a Prince Charming but a Snow White who ends up in a coma? Yeah, that's right I "spoiled" it. It's the same nonsense as Andrea Arnold's recent unwatchable Wuthering Heights which saw fit to make Heathcliff Black so that he could be called "nigger" just to congratulate Arnold's "smartness." Problem is, Blancanieves is rather dumb; it doesn't make the most of young Snow White's cuteness, innocence, filial devotion, not even on a female bullfighter's aptitude that might change people's perceptions.
This half-assed feminism proves Berger hasn't studied his own revisionist film history. Blancanieves lacks the creativity of Neil Jordan's 1985 A Company of Wolves, an adaptation of Angela Carter's feminist fairytale revision. Instead, Berger emulates silent movie burlesque. His poor technique uses rushed TV-style montages without the complex meanings of Dmitri Kirsanoff's silent movie experimental editing principles in the girlhood fairytale Menilmontant. The black and white photography is not lush or dimensional like Sternberg, Dreyer, Murnau, but flat digital imagery. Critics who call this film beautiful must never have seen a b&w silent movie.
Whatever "progress" we have made sociologically, Blancanieves does not make artistically. Berger's lack of political and artistic cred turns Blancanieves into yellow snow.
Follow Armond White on Twitter at 3xchair