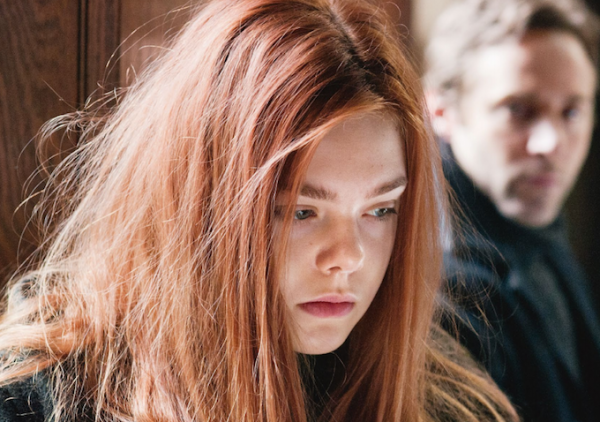 By Armond White
Did Simone DeBeauvoir have a bubbly personality?" Ginger (Elle Fanning) asks her BFF. And Rosa (Alice Englert), without a care about DeBeauvoir's philosophical stature, reasons that the cluelessly academic titan "Hasn't read Girl.
These two 1960s British teenagers, fans of pop magazines like Girl, new music and new social movements, are poised on the cusp of feminism, witnessing the cultural revolution. They're also literate youths, impressed by political idealism yet caught up in hormonal drives and adolescent fantasy, and so must contend with romantic longing and the political changes happening around them–from Ban-the-Bomb protests to the marital negotiations of their frustrated and infuriating parents.
Filmmaker Sally Potter devised this story of best friends maturing at different rates (emotionally precocious Ginger is outpaced by the physically ripened Rosa) as a semi-autobiographical recall of her own political and sexual awakening. Potter's script ingeniously dramatizes Ginger and Rosa's adolescent confusion as an inheritance from their own mothers' fates (the opening scene shows their tandem births in a London maternity ward, already fraught with gender disappointment that separates men from women).
In Ginger and Rosa, Potter examines feminism's troubled roots–the unfairness that created it and the uncertainty suffered by young girls expected to behave as pioneers before they've sufficiently understood the compromises that they face and their unavoidable personal needs. Ginger's life is examined better. Obviously the Potter figure, Ginger recoils from sacrifices by her voluptuous mother Natalie (Christina Hendricks) and is drawn to the intellectual arrogance of her father Roland (Alessandro Nivola).
As a young intellectual, Ginger sublimates her instincts into her affection which sets her up for a rude awakening into the age-old war between men and women, especially when it becomes a real intrusion upon her girlhood idyll with Rosa who is drawn toward Roland's paternal sexiness. Potter creates extraordinary moments when the teens are trapped inside virginal curiosity and the allure of bohemianism. Sidney Bechet and Miles Davis puts them in a spell while they try sorting out their uncontrollable impulses. The contrast of Roland the roue revolutionary sentimentally breaking down when listening to Schubert cleverly pinpoints all bourgeois revolutionary imperiousness.
Potter's girlhood nostalgia improves on the trendy feminism seen in My Summer of Love, the foul, nihilistic attack on patriarchy that also exploited lesbian experimentation. Potter critiques the heterosexual model of gender conflict. Her insight recalls what Arthur Penn's 1969 Alice's Restaurant revealed about men and women and youth revolution: that change would not be ideal but heartbreaking. The growth pains suffered by Ginger and Rosa are no less affecting for being classic. It's unusual that a contemporary filmmaker would find fault with the Progressive movement or admit how communists and anarchists selfishly eat their young. It is bold of Potter to assert this refreshing realization.
Despite a hint of misandry in the film's coming-of-age anguish, there's also sympathy for the delusions of men like Roland whose weakness some women find irresistible–to their own chagrin. Chagrin is Elle Fanning's special emotion and overemphasis on it is Potter's flaw. Elle's unvaried sensitivity (all Pre-Raphaelite hair and teary eyes) needs the energetic range that Dakota Fanning had in The Secret Life of Bees–especially Dakota's Garbo-like moment of self-deprecation. The scene where Ginger reads T.S. Eliot's "Bang/whimper" coda while overhearing Rosa's deflowering might be too coy but it works.
Potter's big moment of family conflict brings together each characters' issues–only Mike Leigh has staged such climaxes better as in the masterly Secrets & Lies and Another Year. Yet. Elle is a delight in her own right. That Potter leaves several threads loose proves she's not at Leigh's level but then Ginger and Rosa resolves to a quietly moving peak–a purely expressive image of Ginger's emergence from one tormented generation into her own painful, loving awareness that is one of the most powerful scenes in recent cinema. As in Rage, her brilliant fashion world expose, Potter examines the pressure of progressive thinking on new generations and their maturity. This makes Ginger and Rosa an impressive vision of youth and forgiveness.
Follow Armond White on Twitter at 3xchair