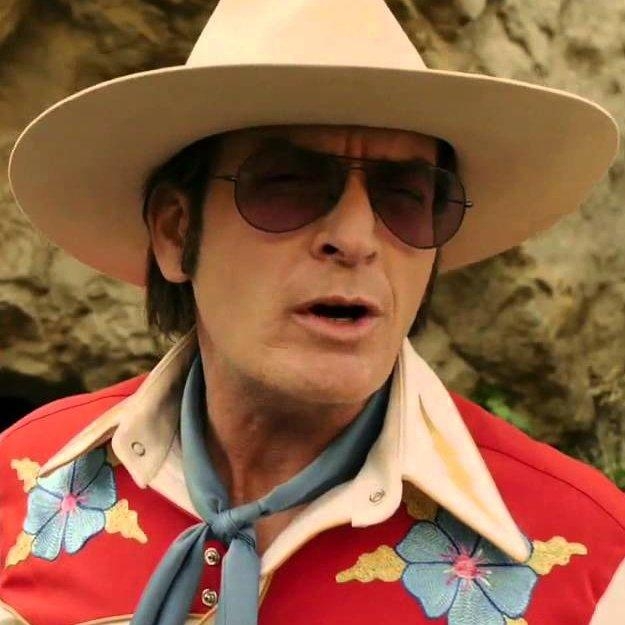 By Armond White
It can't be easy for children of famous filmmakers to escape their parents' shadows. That's the problem facing Francis Ford Coppola's offspring, daughter Sofia and son Roman, the most talented of the two. Neither can seem to get out from under their father's eminence but at least Roman gazes beyond his own navel as in the new film A Glimpse Inside the Mind of Charles Swan III.
Charles Swan III looks at a Hollywood brat (a free-wheeling advertising wiz and immature bachelor) who has hit crisis point. Since it stars Charlie Sheen, director-writer Roman Coppola places his personal concern at pixilated, fantasy remove. This works nicely because both Sheen and Coppola are yoked under the same privileged-Hollywood-scion onus without burdening the audience with too much enviable and undeserved celebrity identification. Whatever one's initial reaction to the film's conceit, it is always complicated by realization that the film's subject is broader and more humane than judgmental gossip.
Sheen's recent public behavior, the hard-partying stuff of tabloid fodder (and tabloid income), is shown in a cooler light–a light made resplendent by videographer Nick Beal who also knows to lend surrealist exaggeration to Swan's paranoid extremes. This story of privilege run amok (Swan can't understand why his girlfriend deserts him, why business associates are dissatisfied with his selfish preoccupation) is also a tale of fond sensitivity that Roman Coppola understands and vouchsafes to the world. (Roman co-wrote Wes Anderson's most profoundly emotional and deeply charming film, The Darling Limited.)
Perhaps the only reason Charles Swan III wasn't greeted with the rapturous reviews Sofia Coppola always receives is that it doesn't rely on the poor-little-rich-girl petulance that our celebrity-worshipping mainstream media adores. Candidly masculine, it risks the tyrannically p.c. media elite's hypocritical disapproval. Yet Roman Coppola empathizes with the more complicated bad boy tradition exemplified by Sheen (a childhood friend since the filming of Apocalypse Now which was directed by Coppola's father and starred Sheen's dad).
Unlike the cosseted worlds on view in Sofia Coppola's Lost in Translation, Marie Antoinette and Somewhere, Charles Swan III offers a satirical view of narcissistic privilege as a young man's dubious choice, not as social entitlement. Swan's custom-designed bacon-and-eggs car, the fancy-dressed cowboy-and-squaw fantasy, the erotic vision of an out-of-reach love object poignantly, hilariously mock self-indulgence.
This rare feat of satirical candor recalls the Steely Dan song "Show Biz Kids" that predicted "Show biz kids/ Making movies of themselves/ You know they don't give a fuck about/ Anybody else." While that remains an insufferable truth about Sofia's movies, it is exactly what distinguishes this film as a charming display of camaraderie. (Note the lovely, reckless revenge Swan III exacts in defense of his stressed-out sister, played with sweet complexity by Patricia Arquette.) Above all, Roman helps Sheen achieve succor and Sheen returns the favor with a forceful performance–as in an ambidextrous telephone scene that shows impressive actorly skill far beyond his coasting as the oblivious roue in that TV filth Two and a Half Men.
It's been over a decade since Roman Coppola's last directorial effort (CQ). This new film isn't any more major but it's of equal esoteric charm. Charles Swan III's missteps appeal to our humanity in an era of rabid celebrity envy. No less a misanthrope than Paul Schrader recently complained to Deadline.com "It's that Amy Winehouse, Whitney Houston, Chris Grown thing. The [media] can't stop themselves from unloading and judging. It's a terrible fish bowl existence." Roman Coppola's fishbowl satire makes an uncommon objet d'art. Asking for sympathy is more complex than a disingenuous apology.
Follow Armond White on Twitter at 3xchair