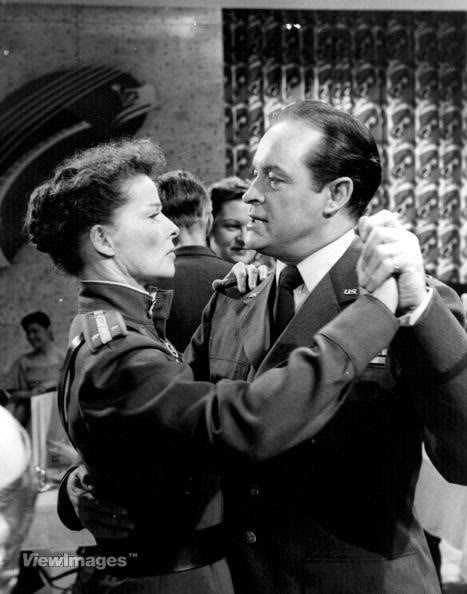 The TCM Vault Collection, which celebrates its fourth anniversary next month, scores a coup with today's first-ever U.S. video release in any format of "The Iron Petticoat" (1956), a film so hard to see it's never even been shown on TV in this country (a situation TCM, which has licensed exclusive American TV as well as video rights from Hope Enterprise for five years, will remedy on Nov. 29) and hasn't had a verified U.S. screening since it showed at MoMA as part of a bicentennial comedy series in 1976.
"The Iron Petticoat" isn't quite a classic, but this Cold War romantic comedy is more entertaining than its very troubled reputation suggests. And more important, it's significant as the one and only screen teaming of that most improbable of screen couples, Bob Hope and Katharine Hepburn. Who have more chemistry together than you could possibly imagine.
Written by Ben Hecht — who took his name off the credits during a very public dispute with Hope — this is one of several film variations on the classic "Ninotchka," a sub-genre that also includes the funnier Hecht-written "Comrade X" (1940), directed by King Vidor and starring Clark Gable and Hedy Lamarr.
Read more:  http://www.nypost.com/p/blogs/movies/dvd_extra_iron_petticoat_resurfaces_ABtP0Yi63q23FPiNxoyjCM#ixzz2CmPt76yu