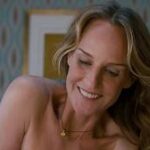 By Armond White
"Sex sells" says Mark O'Brien, the 38-year-old writer and poet played by John Hawkes in The Sessions. So he decides to write about his quest to lose his virginity, an effort made unusual due to contracting polio as a child and living in an iron lung except for several hours outside it each day. The obstacles are mostly in O'Brien's mind: the mix of shame and guilt brought on by his physical confinement more than his faith as a practicing Catholic. Director-writer Mark Lewin navigates these difficulties–and O'Brien's poetic optimism–with surprising, admirable breeziness.
Lewin portrays two kinds of sessions: O'Brien's encounters with sex surrogate Cheryl (Helen Hunt) and parish priest Fr. Brendan (William H. Macy). The physical and spiritual aspects of O'Brien's life, in constant competition, become metaphors for a basic tension in human experience. This is reflected in Cheryl's free-spirited private life (she converts to Judaism to please her philosopher husband, Adam Arkin) and Fr. Brendan's open-minded, vigilant concern for O'Brien's emotional well-being.
The non-explicit sex scenes have a candid body consciousness and the church confessions pose O'Brien as in a crucifix: head back, torso thrust and racked. The sense of frustration recalls My Left Foot but Lewin makes a remarkable leap past emotional violence into humane empathy that embraces every character. O'Brien is blessed with a cadre of beautiful women (Annika Marks, Moon Bloodgood, Robin Weigert) as his caregivers. Lewin externalizes their inner goodness the way Bogdanovich viewed the women in Mask. O'Brien's romantic innocence shows in Hawkes' light, yearning voice which plays off Hunt's radiant yet officious sex-worker who takes clinical notes, always attempting to control her feelings.
When emotions get in the way of this unorthodox therapy, The Sessions puts a challenge to Hollywood's sex-sells conventions that routinely cheapen erotic relationships in terms of false romance, horny adolescent fantasy or licentious libertinism (as in the horrible, dishonest Kinsey). Noting a crucial event in his therapy as "This act of affection touched me deeply," O'Brien's humanity returns significance to sex.
Perhaps only Josef von Sternberg, cinema's greatest poet of sensual-spiritual aspiration, could do this story comparable justice. But Sternberg used highly romantic, ideational archetypes; his characters, portrayed by Hollywood deities as heightened models of human clay, are deeply serious–almost humorless–soul survivors in pursuit of their destinies. That's why Sternberg is frequently mistaken for camp. But O'Brien's self-deprecating jokiness allows Lewin to treat this grave subject lightly, almost fully. The Sessions avoids the artiness of Julian Schnabel's The Diving Bell and the Butterfly and O'Brien's death escapes the morbidity of David Lynch's The Elephant Man. O'Brien's story becomes both existential romance and Farrelly Brothers comedy courtesy of Lewin's gentle and generous view.
Follow Armond White on Twitter at 3xchair