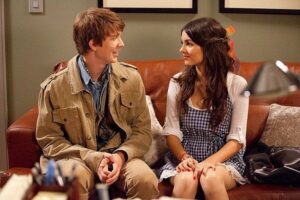 "Fun Size" is no fun at any size.
A limp teen comedy about teens searching for both a party and a lost child, "Fun Size" has fewer laughs than a half-hour of the average Nickelodeon sitcom – and that's pretty damn few. Which makes sense because it's a Nickelodeon film – so bigger obviously isn't better. But neither is "Fun Size."
It's the familiar story of a just-blossoming high school senior named Wren (Victoria Justice), who gets invited to the biggest Halloween party around – by the cool-kid hottie who's throwing it.
Just one problem: Her single mother (the never-funny Chelsea Handler) has a date with her own young hottie and insists that Wren and her pal April (the unfunny Jane Levy of "Suburgatory") take her younger brother Albert (Jackson Nicoll) around trick-or-treating and then spend the rest of the evening baby-sitting him.
But Wren loses Albert early in the evening and spends the rest of the night searching for him, while getting into a series of dreary, predictable adventures. Meanwhile, Albert, who apparently hasn't spoken since their father died a year earlier, is off on escapades of his own, dressed as Spiderman and toting an arsenal of firecrackers. For good measure, we look in occasionally on Mom on her date, at what would charitably be called a frat party – if the party people weren't several years beyond college.
There are gross-out moments and numerous attempts at inappropriate humor. What is missing? Laughs. There are none in "Fun Size." Even an audience half-full of kids, with whom I saw the film, uttered nary of chuckle.
Imagine investing the price of a movie ticket in as many fun-size candy bars as that sum will buy – and then eating them all in one sitting. Imagine how you would feel – and it would still be better than how you feel after sitting through "Fun Size."
Find more reviews, interviews and commentary on my website.