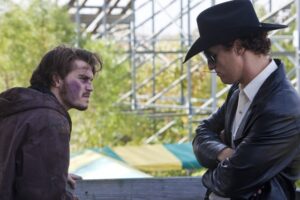 He won a Pulitzer Prize and Tony Award for "August: Osage County," a tale of family dysfunction that was scathing and dark. But that wasn't playwright Tracy Letts' first foray into the brutal dynamics of family strife: Consider his play, now a film, called "Killer Joe."
Dysfunctional? The Smith clan barely functions at all – and the dumbest of the bunch appears to be Chris (Emile Hirsch), a small-time drug dealer who has lost his stash but still owes $6,000 – more money than he has or, perhaps, than he'll ever have – to a local gangster in his small town. His life is on the line and no one in his immediate family has the cash to help him out.
His father, Ansel (Thomas Haden Church), is broke, still trying to impress (and support) his new wife, Sharla (Gina Gershon). Chris has a dim but sexy sister, Dottie (Juno Temple), who is no help either.
Ansel, however, does have an idea: His ex-wife, Chris' mother – a woman about whom no one seems to have a kind word to say – has a life-insurance policy worth a healthy sum – enough to settle Chris' debt. And, Chris assumes, he would be the beneficiary if she came to an untimely demise. Even more to the point, Ansel knows a guy – known as Killer Joe Cooper (Matthew McConaughey), who will, for a fee, dispose of unwanted people. You do the numbers.
Chris, however, obviously flunked arithmetic, because he can't quite figure out how to pay Joe upfront and still extricate himself from his current problems. By the end of the story, Joe will exact his pound of flesh for a job completed, though not necessarily the job he's been paid to do.
Letts' writing is stark and witty, bringing together people who have a low tolerance for each other but who need each other nonetheless.
This review continues on my website.