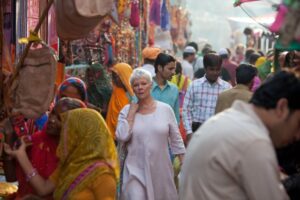 An all-star comedy in the same vein as such crowd-pleasers as "The Full Monty," "Calendar Girls" and other British charmers, John Madden's "The Best Exotic Marigold Hotel" is the kind of movie they seldom make anymore – except in England. When they try to do it in America, you wind up with something like Garry Marshall's "New Year's Eve" – or worse.
Based on the novel "These Foolish Things" by Deborah Moggach, "Best Exotic Marigold Hotel" (opening in limited release 5/4/12) brings together Judi Dench, Tom Wilkinson, Bill Nighy, Maggie Smith and a few others for a seductive fish-out-of-water tale. And I'm using "fish" in the plural.
The aforementioned stars all play British pensioners who, for their own reasons, are disappointed with what retirement has meant for them in England. They're feeling outmoded in a fast-moving country, or undone by an economy that means their money isn't stretching as far as it should. Or they're simply lonely, residing minus a spouse in a community where they don't know anyone else.
So they all fall for an Internet pitch, advertising a new retirement home for Brits in lovely Jaipur, India. The hotel promises old-school British manners – circa the age of the Raj – at a fraction of the price of living in England. And the weather is better.
They're a mixed lot: Evelyn (Dench) is a widow whose husband left her with a pile of debt; Graham (Wilkinson) is a judge who suddenly sees the light at a friend's retirement party and calls it quits himself; Doug and Jean (Nighy and Penelope Wilton) are a couple who invested everything in their daughter's failed Internet start-up. Muriel (Smith) is a retired housekeeper who needs a hip replacement, which would take months to get in England but only a couple of weeks in India; Madge (Celia Imrie) is a better-off widow in search of a new man. And Norman (Ronald Pickup) is an aging roué, on the prowl for women.
They arrive to find that the hotel, an ancient, dusty place, isn't quite finished with its renovation. But the proprietor, Sonny (Dev Patel), promises grand things – though the rest of his family would rather sell the aging property for the land value.
What follows is sort of the opposite of a coming-of-age story: It's a new-beginnings tale, with most of these people finding something they thought they'd never have again, whether it's love, companionship or a new way to employ long-dormant talents.
This review continues on my website.