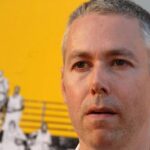 Gunnin' For That #1 Spot
Directed by Adam Yauch
The Wackness
Directed by Jonathan Levine
By Armond White
Midway through 2008, something surprising has happened: two films with human dimension and artful expression–Adam Yauch's Gunnin' For That #1 Spot and Jonathan Levine's The Wackness–have flushed the toilet of summer movies. Neither is a special effects extravaganza but they stir emotion by emphasizing the human scale of what movies can show. (See my mid-year round-up below.)
Gunnin' documents b-ball culture through eight high school basketball prodigies from across the country who participated in the "Elite 24 Hoops Classic." It took place in 2006 at the street basketball mecca of Harlem's Rucker Park, on the corner of 155th street and Frederick Douglass Boulevard, where stars like Dr. J. and Wilt Chamberlain first began. Reputations (nicknames) and legends are made at Rucker ("It's where you get tough," a fan says) and Yauch's attention to the authentic passion of folk culture makes the movie vibrant. Gunnin' is everything the fatuous, condescending Hoop Dreams was not.
As in his remarkable Beastie Boys concert film, Awesome: I Fuckin' Shot That, Yauch elevates video technology with a hands-on, heart-felt, keen-eyed purpose. A b-ball fan who knows what to look for, he also utilizes the medium to catch fantastic moves: he even turns instant-replay into an art form of amazement and commemoration. The fish-eye lens expresses wide-eyed wonderment at New York life, while a witty scan of internet searches paces background info on the players. In Gunnin', Yauch's style has the intellectual and emotional rhythm that DePalma failed to achieve in Redacted.
Most docs are still made according to decades-old models but Gunnin' has hiphop immediacy and this is not just a matter of technology. Yauch's feeling for youth culture gives him insight into his subject. Imaginary stats cards for each of the players (Jerryd Bayless, [cq] Michael Beasley, Tyreke Evans, Donte Greene, Brandon Jennings, Kevin Love, Kyle Singler and Lance Stephenson) provide an affectionate motif, but Yauch also conveys how these talented kids get marked for success–hunted by NBA scouts, manufacturers, predatory bloggers and girls. The interview segments are terse but reveal the essence of diverse backgrounds, contrasting suburban genes to ghetto pedigrees. It coalesces different styles of American boyhood; these are the warmest, most recognizable gallery of faces since George Washington.
Although no fewer than three of the film's subjects were just drafted last week, Yauch's interest bypasses corporate sponsorship. True to Beastie Boys ethic, he understands Rucker is not a capitalist or elitist institution; its draw is personal, mythic. The story told in Gunnin' is hiphop Homeric; it does what the best movies so far this year have done:
1) Provide an emotional document of an era like Andre Techine's The Witnesses. 2) Explore the spiritual ambitions that cross class boundaries as in Stephen Chow's CJ7. 3) Finds an aesthetic correlative for private emotion like Wong Kar Wai's My Blueberry Nights. 4) Connects contemporary endeavors to history and myth like Indiana Jones and the Kingdom of the Crystal Skull. 5) Sees beauty in the sport of human relations as in Marcos Siega's Chaos Theory. 6) Gives fresh understanding to American models of masculinity as in Jeff Nichols' Shotgun Stories. 7) Charts the cultural traditions that define how we live like Marco Bellocchio's The Wedding Director. 8) Appreciates the humor of serious camaraderie like Jeff Wadlow's Never Back Down. 9) Transform the doc genre into trenchant personal politics like Nick Broomfield's Battle for Haditha. 10) Plays with cinema to deepen our compassion as Claude Lelouch does in Roman De Gare. 11) Finds moral verities in underrated ethnic rituals as in David E. Talbert's First Sunday. 12) Link individual passion to communal memory like Guy Maddin's My Winnipeg.
Gunnin's narrative momentum is sustained by what feels like the greatest-ever soundtrack of hiphop anthems and breakbeats. Starting with The Game's "Hate It or Love It" and ending with Jay-Z's "Dirt Off Your Shoulder," the selections are apposite and rousing. And hiphop appreciation is also at the heart of Jonathan Levine's The Wackness. Set in 1994, Giuliani-era New York, its nostalgia for adolescence is made moving by Levine's unabashed appropriation of hiphop. His alter-ego protagonist Luke (Josh Peck) is obsessed with hiphop as an alternative to Kurt Cobain. For a friendless, pot-selling, romantic Jewish kid from the Upper East Side, black pop becomes the ultimate expression of his alienation. He turns up the volume on The Notorious B.I.G. to drown out his squabbling parents and then confesses: "I'm a drug dealer hear my cry."
While The Wackness is self-consciously absurd (privileged Luke has a slacker's indifference to class; his Jamaicans supplier played by Method Man is merely an exotic), it feels true to the way hiphop has exceeded its ghetto origins and entered the fantasy life of the most unlikely listeners. It's laughable when Luke adapts 90s rap lingo ("I like breasteses, fly ladies") but the way Peck speaks it–in a sob-choked voice, with bangs falling into his teary eyes–the movie evokes some poignant need. And though the authenticity of Gunnin' For That #1 Spot teaches us a better way to participate and empathize through pop, Levine/Luke's genuine madness has a powerful tug. When Luke finally opens his heart to Stephanie (Olivia Thrilby), his Michael Jackson dance of joy is inspired; Levine creates a visual link to our spiritual and cultural core.
Shot in monochrome-and-chiaroscuro resembling Whit Stillman's Metropolitan, The Wackness is an exercise in moodiness. Yet it isn't depressive; Levine counters the dreary cyncism of Harmony Korine's Mr. Lonely and Gus Van Sant's Paranoid Park with Luke's pop-inflected yearning. Grasping that black pop is salvific, he ironically finds purpose in Biggie Smalls' most squalid tales and vicious boasts. How Luke relates to the art of hiphop while ignoring its pain reveals that his solipsism is a class advantage. That's already more complex than Paranoid Park–especially when Luke's angst is extended to his therapist Dr. Squires (Ben Kingsley), an ex-hippie as lost as his young patient. Luke makes Squires a mix-tape, a more expressive placebo than weed. Their mirrored relationship is beautifully ironic, filled with the middle-class failure and longing that Paul Mazursky used to tap.
Given this depth of feeling, it's almost forgivable that Levine's story isn't thought through. He doesn't connect the maturity crisis in hiphop to Luke's Rebel Without a Cause father issues, (something Dito Montiel did better in A Guide to Recognizing Your Saints). And Kingsley is awkwardly cast to play a grown-up American boy (although he summons rich regret when Squires gives staggering advice to college-bound Luke). But Peck's performance sustains Levine's mood, even Luke's stoopid-ardent "I got mad love for you that's on the real. I want to listen to Boyz II Men when I'm with you." It's not foolish, but sincere. Despite it's problems, The Wackness employs the emotional extravagance of its hiphop soundtrack to achieve a triumph of romanticism. Like Gunnin' For That #1 Spot, it uses hiphop to return feeling to the movies.